To tell from the southerners: back in June I went to the down jacket! Baltika … But the other day I packed my winter wardrobe, until October I don't need it, I hope. Down, synthetic winterizer, fur, suede and leather – cleaned, washed and dried. Come in, tell you what and how.
I once lived in the south. Oh, grace! I had a pair of sweaters, a coat on a padding polyester and shoes on fish fur. The rest of the wardrobe is three bags of summer clothes. And now the opposite is true! A pair of sandals, three dresses, but winter warm clothes a car and a little truck.
Things are not penny, so you need to take good care of them so that they serve me longer. I do not pack in vacuum bags. Of course, they save space, but things crumple things up a lot; and leather, wool, and fur must breathe — these are two.
I have a pair of jackets on the padding polyester, one of them is ski. Before washing, I necessarily wash up my sleeves and hem – I keep it under warm water, washing it with laundry soap and cleaning it with a brush. Then I wash in a typewriter at a temperature of 30 degrees in synthetic mode.
I use not washing powder, but washing gel, naturally, without bleach. After the wash cycle I put on an extra spin. Then I dry the jackets on the hangers in the room, put on the polyethylene cover and send it to the far end of the cabinet.
I don't have fur coats; in a humid climate, these are heavy and impractical clothes, besides, they are expensive. But there is a fur cap and collars on the outer clothing. I packed the cap a long time ago, in May.
At first I poured the fur with starch, then I combed it with a massage brush-comb. She turned the cap with the fur inside and put it in a bag together with the collars of down-padded coats, and the bag in a large shoebox so that the fur would not fit.
I know that the fur should breathe, and it is better not to keep it in cellophane. But I'm afraid to pray.
I wiped the jacket with a damp sponge soaked in a solution of soap. Then she wiped it thoroughly with a dry cloth, dried it and wiped it with a sponge with glycerin. I know that there are special cleaners and impregnations, but I take care of it in the old-fashioned, proven ways. The jacket hangs in a case in the closet.
The basic rule of storing woolen things, whether it is a sweater or a coat – things must be clean! In worn and uncleaned things 100% settled mole. So sweaters, sweaters, scarves, hats and mittens must be washed, dried, packed in bags with anti-mole and sent to the mezzanine.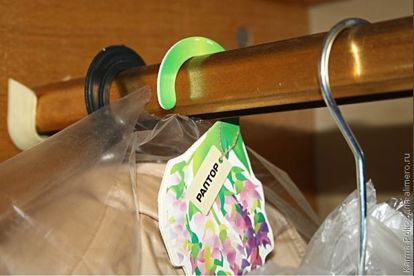 Jackets
At first I was afraid to wash my feathers myself, and what if they give up and become raincoats? But I found good washing instructions and now I save a lot on dry cleaning. I wash down jacket with washing gel at a temperature of 30 degrees.
On the light pre-wrist cuffs, hem and collar. After the wash cycle, I put an extra rinse and a good spin. Pooh, of course, lumps together. When I take out a down jacket, I slightly straighten these lumps.
And I return the old look to the down jacket like this: when it is completely dry, I put it in the washing machine again and run it in the spin mode several times. I hang on hangers, put a cover on and in the closet.
I always wear my winter shoes with soap, dry and lubricate with castor oil. I fill newspapers, and keep in my own box.
Four pairs of suede shoes are my love and a headache at the same time. Here with her fuss! Be sure my sole with soap. Then I process the suede with a brush and a foam cleaner. I dry it. I tint with a regenerating spray, dry it again, then spray with a protective water-repellent spray and dry it again. I fill newspapers and box.
Everything in the winter wardrobe order.
Do you have secrets for handling and storing winter clothes?