A year ago, I had not heard of this kind of fiber, like bamboo. And now in my wardrobe there are already things whose material is woven from this plant. Honestly, I am pleased with my purchases and would like to share with you my impressions.
Bamboo fiber is an environmentally friendly product, which is obtained from bamboo through mechanical processing.
Bamboo fiber has a particularly unique structure, which determines its properties:
In nature, it is almost impossible to find rotting bamboo, and the reason is that it contains a special antibacterial substance. That is why bacteria die on products made from this fiber, and this property, by the way, is preserved after washing.
Bamboo fiber passes air and absorbs moisture several times better than cotton.
This fiber belongs to hypoallergenic, also it does not form static electricity at all.
There is a theory that substances contained in bamboo have anti-cancer and anti-aging properties, but I would not particularly hope for them.
Leggings
Previously, I was not particularly interested in this piece of clothing, but this year I purchased boots with a rather narrow boot, under which it is impossible to wear even the narrowest jeans.
Not far from my house there is a shop with products of Chinese factories, it was there that I first saw products made of bamboo fiber. What attracted me was the fact that the seller did not impose at all and did not persuade them to purchase things, as is often the case. On the contrary, she said that she did not need to do this, and so the product scatters like hot cakes.
And so, my mother and I became the owners of bamboo fiber leggings for only 200r. (50 UAH). Moreover, despite the difference in body size, our purchases were the same, because leggings are produced in the same size and are very elastic.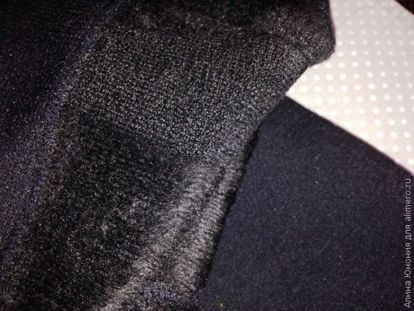 At home, I immediately tried on a new thing and, to my surprise, could not be like them even ten minutes, it became so hot to me! And it was precisely this quality that was useful to me in the December frosts, when it was -15 outside, and my daughter and I went for a walk for a few hours.
Outwardly, these are ordinary black leggings, but on their inner side there is a cross between plush and short artificial fur. Despite this, they sit on the body very tightly, do not twist and do not slazit, although I put them on nylon panty hoses.
My second acquisition was the socks made of bamboo fiber (40p or 10grn). Externally and to the touch, they differ from leggings – softer and thinner. However, the properties are almost the same – very warm and pleasant.
I also purchased similar men's socks. Moreover, the husband does not recognize the dense products with a terry pile, but he wears bamboo products with pleasure. And, by the way, I noticed that the feet in them sweat less and there is practically no smell.
Underwear with similar properties gave me a mother. I have it, like most mothers, in every way makes sure that her daughter does not freeze. So she bought panties in the form of neat, tight shorts in classic black (80p or 20uah).
To the touch, the fiber is a bit like cotton, but still a bit different. If I put on a skirt or a dress, under the bottom I will definitely choose my mother's gift, albeit not quite erotic, but very warm, which is important for us women.
Cleaning Cloths
Mom got me hooked on them. Once, just for the sake of experiment, she bought one for a sample (40p or 10grn), and the very next day she bought a dozen more to give to her friends.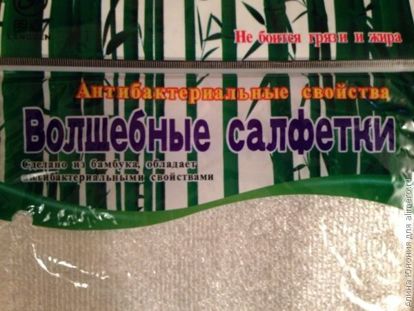 The inscription on the packaging says that the product is magical. And the truth is, if you wash the dishes with such a rag, detergent is absolutely not required, and, quite enough, and cool water.
It is also irreplaceable when cleaning – it perfectly absorbs moisture and dust, washes windows and mirrors (again, without detergent!) And retains its presentation even after repeated washes. And the antibacterial properties of bamboo fiber only add to the product advantages over similar rubber and foam sponges and napkins.
To be honest, I am wary of new products, and even more so, made in China. But in this case, I was pleasantly surprised. Now I plan to buy towels and blankets of bamboo fiber!
Have you purchased similar products?