You are lucky if you have such a figure, as if sewing enterprises take measurements of you when sewing clothes. Then you do not need to hem trousers, lengthen the sleeves or ask the seller to sell a jacket of one size, and a skirt – another. But even these inconveniences are trivial compared to how difficult it is to choose suitable clothes for full girls.


Sad story


Once the daughter of our employee came to her mother to work in tears: graduation at the university is nearing, and she has been unable to find outfit for a week.
Let me explain the cause of the problem: because of hormonal disorders, this girl had the 52nd size of clothes.
About the magnificent dress with an open neckline out of the question. But she could not even find a youth suit.
Where did you search?


At first she was looking at the market. Unfortunately, for some reason, clothing manufacturers are sure that only older women over the age of 70, who are very conservative, are above the 48th size. Blouses – shapeless robes, skirts – to the middle of the calf.
And the colors … We saw in the films of Soviet times grandmothers in the village? Designers of clothes work on their motives.
Specialty shops


The girl really wanted to look good at the prom, so she went to specialized clothing stores for obese women. Unlike the market, there were business suits and elegant dresses.
That's just by age perception, they did not fit. It was clear that the models were created for women in age. Youth style was not introduced.
The impression was that only adult women could be full. Girls full weight should get round.
So this is a millionaire city! And what about small towns?
When we touched this question in the team, it turned out that the girl is not alone in her problems. Someone has a girlfriend, someone has a sister or mother who constantly face similar difficulties. And the money is there, and you want to look good, but there is no place to buy fashionable clothes.
Where do the clothing manufacturers look: after all, these 10, or maybe 20 percent of women are also buyers? Just different from dummies.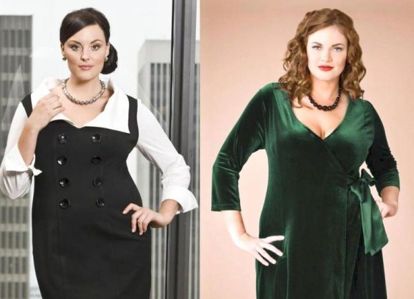 A good option


The girl at that time found a way out of the situation – she sewed a suit at the seamstress. She looked very elegant at the prom.
But in this version has its own nuances. Firstly, it is very difficult to find a good seamstress. Secondly, items of individual tailoring are different from those purchased. For the worse or for the better – as lucky. Moreover, a seamstress is a master and a creator. Some works work out great, others – on the contrary.
These are the options for buying clothes for those whose size is greater than 48th. Maybe you have more alternatives? Share it?