I've decided to do another cleaning in the closet. Actually, I always have everything there clean, everything is evenly and correctly folded. All things are ironed and clean. But I have to clean in terms of changing clothes and preparing for the autumn-winter period. I hide summer clothes away, but I fold winter clothes so that it is convenient to reach and quickly find to change clothes.
I look at my things and understand that I spend a lot on them and need to learn how to save. For example, many blouses are expensive, as for me, but their quality wants the best. The same is true of skirts and trousers. But clothes are now more expensive, like everything, in principle.
But I recently stumbled upon an interesting article. It said that it is not necessary to spend money on expensive things. But how so, I do not understand? After all, a girl who wants to look good should not spare money for herself, right? And I have always held this view. But in fact, women's wardrobe may consist of the simplest clothes. And this is a significant savings.
I'm not saying that things are worth buying substandard. Just if there is an opportunity to significantly save, it is worth taking advantage. Personally, I understood a little about this issue. And I will tell you what I am doing, how I am saving.
As for me, this type of female wardrobe is very practical, comfortable and relevant. And it seems to me that almost all women love to wear jeans. Depending on the model, jeans can be worn both for work and for an important meeting, a date. After all, they are not only of a different style, but also of a different color and decor.
Personally, I prefer recently classic models. Why? Because they are much cheaper, they will never go out of fashion and it is easy to choose an outfit for them. After all, under the classic jeans fit everything: a blouse, and a pullover, and summer top. You know, two classic models are quite enough for me: these are light and dark jeans.
But, by the way, I also want variety: super-fashionable boyfriend jeans, skin-tight skinny. But boyfriends do not suit me, and it's difficult for me to pick up something for them. So I went to the market and chose a modest jeans model. It is relatively inexpensive, only 260 UAH. But they are tight, narrow at the feet, which looks very good under a heel and it is convenient to fill them with winter shoes, which is very important for me.
Trousers

You know, I was disappointed in this article of clothing. Girls, and you love them? Me not. Firstly, if you buy branded and expensive pants, you will not determine their price and brand in appearance. But significantly saving and buying cheap pants on the market, you can immediately throw them away after the first wash.
I think that much smarter more chic top: awesome summer top or a beautiful blouse. But the pants replaced with leggings or jeans. They are both more practical and cheaper.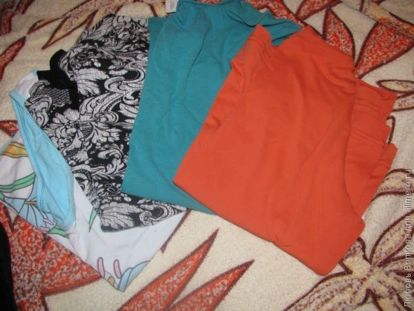 T-shirts, tops, t-shirts
As for me, such things in the wardrobe does not happen much. I once was in stock and was able to buy summer tops in the middle of winter just awesome quality! Add that branded tops with a label at a very attractive price! I remember that then I bought 3 sports T-shirts, 2 cute top for 500 rubles (150 UAH)!
Why do I like T-shirts so much? Because they most often wipe out other items of clothing, fade in the sun and lose their appearance. But having only jeans, for example, and a lot of t-shirts, you can create a variety of images! I believe that T-shirts and tops, in principle, like any other clothing, should be made of natural material. I immediately choose diverse tops: not only different colors, but also different prints and décor, appearance and form.
Here I have such savings. And how do you save and what?