Do you know everything about your wardrobe? I recently watched the video image maker and listened to her advice on its creation. It turns out that I do not know anything about my wardrobe, although I guessed a great deal about it.
Why do I need it
Movie I got a bonus to the paid program. But even if he were freely available, I would hardly have looked at him. I have studied myself for so many years of life, I know for sure what and where I should be in the closet.
Therefore, the video I lay a couple of months unclaimed. And so the other day I decided to take a look for a change. I looked at my wardrobe differently! It turns out that my life becomes simpler and more convenient, how to work on it!
I applied some recommendations earlier, but not quite correctly. And some have become a real discovery for me. It was amazing how I had not thought of such elementary things before.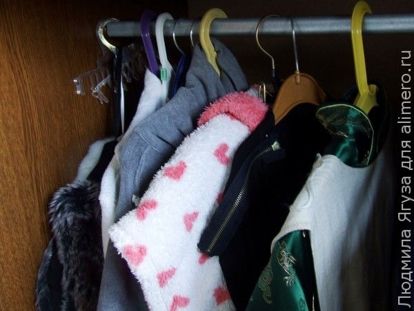 My wardrobe insights
1. All clothes should be ironed, hung on hangers and ready to use. Of course, this does not apply to those things that are not recommended to be stored on the hangers. But how much does this solve the perennial problem Lord, what to wear?
I always have all the things folded on the shelves. To pick up an outfit, you have to rummage around in piles, get what you need, put it together, put it back together. Often, after such events, clothes must be folded again. On my shoulders, I hung only jackets and what was worn once.
But a brilliant decision is to hang everything on the shoulders in advance. And so that a number of things that can be put together are hung together. You open the closet, run over your eyes, choose what suits your mood, put it on and go – 5 minutes of work!
2. Things must be sorted by subject. In general, they are on my shelves sorted: summer and so on, pants separately, blouses separately. But it is much more logical to sort things out by their use: clothes for work, walks, evening dresses and home dresses.
3. Homemade dresses. This for me was a revelation. My mother always wore a bathrobe at home. I generally like to wear long T-shirts so that I don't wear pants. But you can wear beautiful clothes at home!
There will always be dresses that seem to be nothing, but they are out of fashion and are good only to jump into the store for bread. I usually have them in separate packages for sending to the cottage. But just at home you can wear the most outspoken outfits: short shorts, skirts, deep cleavage.
4. The top should be larger than the bottom. That is, for every pants and skirt should fall several blouses. I also did not think about it, but somehow I intuitively observed this rule.
5. When forming the list of necessary things, first of all you need to make a list of what you do NOT need to buy. Otherwise, there will be another wah-blouse, which will lie for years without ever being worn.
6. Things that have not been worn for six months or a year are ruthlessly removed from the wardrobe. The most difficult item. I managed to tear only a few clothes away from me, I hope everyone else to scold the rest.
How do you like these rules?