Honestly, on this topic, I do not really like to talk. Because for quite a long time this question has been very painful for me. But since I am still starting a new life, I will struggle decisively with the complexes.
At 15 years old, my chest suddenly showed up. And she grew very rapidly during the summer holidays. And I got into a stressful situation. Firstly, I have a rather fragile physique, at that time I weighed less than 50 kg, and secondly, I have a narrow back. It turns out that the bra cup size is needed large, and the volume is small.
How I searched for the right size.
In 9 stores out of 10 I was shown models for grandmothers, with huge cups and a catastrophic volume. True, it is worth noting that they offered a solution to the problem – to reduce the volume, using the services of a seamstress.
Seeing the tears in my eyes, my mother suddenly remembered a small shop, or rather a small department in a shopping center. With great hope, I headed there. It was distinguished from the rest by a smaller product range and rather high prices.
Giving me a professional look, an attractive girl seller, by the way, with a rather large chest, offered several options. They were perfect for me, but they had a significant drawback – wide straps and a triple clasp at the back. But I was glad and this. But comfortable and visually looks quite neat.
I went to these models of the parachute industry of the year 4, until I accidentally walked into one store, where I found beautiful bras of my size – 70F. They cost, it should be noted, quite impressive. But then the straps were thin and trimmed with beautiful lace, and the back was a thin neat buckle on 2 hooks. The minus was that the coloring was limited to three options – black, white and beige. Two years ago, several more conservative colors appeared in this line – blue, cherry and light brown.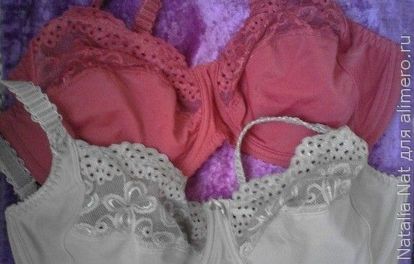 Until recently, I still bought this model, only after completing breastfeeding, my breasts were deflated to D size, and the volume opposite increased by 5 cm.
But a couple of days ago my daughter and I went out for a walk and saw that a new lingerie store had opened. What was my surprise when I was approached by the first white version I liked (photo attached) of size 75D.
Apparently, my summer sports activities were not in vain. True, the form, to my regret, still leaves much to be desired, and I plan to do a surgical facelift.
And you know, girls, I feel better in my heart. Now I can afford to choose underwear of any colors and models, because 75D is quite, as sellers like to say, running size.
A little bit about the swimsuit
I have a separate story with a swimsuit. If I can pick up underwear separately (the benefit of the color scheme allows), then there was a problem with a swimsuit. The top was wide, the bottom is great. I had to take it all the same. But it is worth noting that they made me perfect.
Choose a bra for girls with large cups and a small volume under the breast is problematic, but possible.
Cute options are not cheap.
When choosing, you should pay attention to the shape of the cups, as some models either ugly flatten the chest or, conversely, collect it too much in the middle. It looks unnatural and visually adds extra weight.
Swimsuit can also be chosen, but you may have to refine it.
How do you choose your underwear?