I, like Katerina from Moscow, do not believe in tears, I like clean shoes. Due to the fact that sneakers are usually worn in bad weather, on nature or for sports, they usually get dirty more and faster. Today I would like to share with you my secrets of caring for this type of shoe.
Most of the dirt is perfectly removed with a damp cloth or a normal wet cloth. If the shoes are leather, you can use napkins that are saturated with lotion or oil, the shoes will only thank you for that.
If the sole of the shoe is light, then black stripes may appear on it from contact with hard surfaces (if you stumble, for example, or hit a ball). Particularly affected by this children's shoes. Wet rag, alas, can not cope with them.
Then ordinary nail polish remover works well. Only for starters, check its action on an inconspicuous and small portion of the sole, all of a sudden it is not molded, but colored. For those bands that acetonic liquid did not cope with, there is a special shoe cosmetics (usually comes in the form of a stick). True, it costs a lot – more than 400r.
I remember when I was in school, the only way to wash me was an old toothbrush. Now I wash all sneakers in the washing machine. One of my girlfriends (by the way, she works in a shoe store) erases even winter membrane shoes in this way!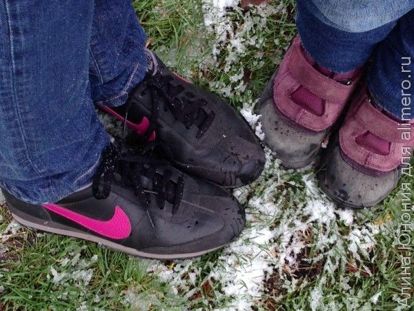 Recently, we bought a new washing machine, and I noticed that many models have a wash mode in the range of sports shoes. I don't think that there is something unique in it – perhaps only low rpm and low temperature.
I follow the same criteria and I – I wash the sneakers when temperature no higher than 40 degrees number of turns I choose 600-800. If they are smaller, the shoes will dry longer.
Be sure to add the function extra rinse (preferably two), because with an insufficient amount of water, some of the dirt may remain on the fabric or mesh and then appear as ugly brown spots.
Before washing, I always clean the sole of dirt (why wash your shoes in your own dirt?). Then I remove the insoles – if they are light, then I wash them with soap beforehand. Sometimes it is enough for me to wash only the insoles to refresh my sneakers. Also pre-zastiryvayu and laces.
Wash shoes better in a laundry bag. Honestly, I don't know what this recommendation is based on. Probably so that the sneakers beat less against the walls of the drum.
Powder I use liquid for washing – it is rinsed much better not only from sports shoes, but also from all other things.
If the product is leather, then I dry it in the open air. But sneakers made of fabric, mesh and artificial materials can be on the battery.
These are some simple recommendations to keep my and my daughter's sports shoes clean. I hope they will be useful to you. And I am pleased to learn other tricks that will facilitate the care of sneakers!