I love to look beautiful! It doesn't matter if I work or stay at home with a child. I think that to have an attractive and well-groomed appearance for a girl is sacred. But, there are cases when you need to look not only beautiful, but also spectacular. Let's think about how to do this.
1. Self-confidence. Yes Yes. It is with confidence that everything begins. You can decorate cosmetics and put on the most chic things as you like, but if this very feeling of its own exclusivity does not come from the girl, then all this will not have the desired result. It is important to consider yourself beautiful and spectacular, to radiate this feeling, and only then others will pick it up.
2. Posture. The back should always be straight. Posture is our everything. Straight back is not only a plus to our health and well-being, but also the backbone of our attractiveness, femininity. The stooped ruin on the vine is not one beautiful image, remember this.
3. Makeup and hairstyle. Here you can not do without a professional. I would advise every girl to consult with a makeup artist, to go to some master class in cosmetics, so that a professional could show her how to apply makeup exactly on her face. What to emphasize that, on the contrary, to veil and remove. This knowledge will be useful for the rest of your life. Helping to always stay beautiful.
4. Properly selected clothing. No matter how much you weigh, in fact, the main thing is to choose the right clothes, which will emphasize your strengths and smooth out the shortcomings. For example, with excess weight do not need to wear supermini and dresses in oblipochku. It looks ridiculous and funny as a rule.
And I love to combine bright colors. A blue pencil skirt and a yellow blouse, an emerald dress and a red necklace. Bright colors attract attention, distinguish us from the crowd, in which predominantly gray and black colors prevail. Brightness and showiness for me are quite similar concepts.
5. High heels. This is my husband's fetish. He just adores when I put on studs. And indeed, no flat sole cannot hold a heel. Any girl standing up in heels looks more advantageous, the figure becomes slimmer, legs are longer. Beauty!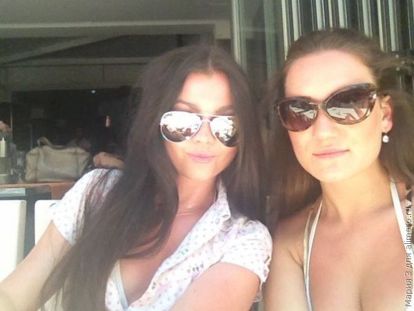 6. Playing on contrasts. And it can be done not only in clothes, but also in experiments with appearance. For example, by nature I am practically blonde, I have blue eyes and fair skin, which practically does not tan. But I'm still black since high school, it makes my appearance very bright, it looks much more impressive than my typical Slavic natural data.
And what do you mean by the concept to look spectacular?