I revised my closet and was horrified! It's summer outside, but I have nothing to put on! Somehow I completely missed this moment! True, I have a grand weekend shoes with heels and white sandals. But I still have to go to a shoe store!
You know, the choice of shoes for me is a very responsible occupation. Buying the first one is certainly not about me! The choice of shoes, as well as clothes, I am slow and balanced! Therefore, you cannot find random shoes in my closet. Yes there is generally empty. That's why I'm going to the store 🙂
This characteristic of shoes for me in the very first place. Why is that? Because I will give preference to light ballet flats rather than stiletto heels. Now, being on maternity leave, I only think about comfort. You have to walk a lot, jump and run with your son. Therefore, summer shoes for me should be as comfortable as possible.
Naturally, summer shoes should be light. In the heavy, you don't really go out. I like the airy flip flops. But the problem is that it is unreliable shoes. It can easily be torn, pierced with something sharp and even cut the leg. In the store, I measure all the shoes to ensure its quality and reliability. Yes, you can sit for hours, but make sure that you bought exactly what you need!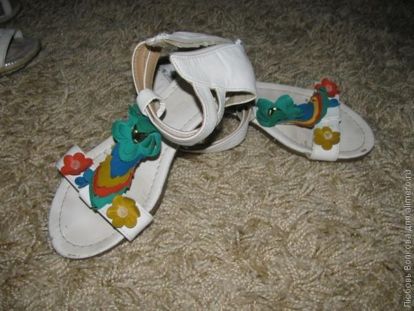 Shoes must breathe. Yes, our legs sweat a lot in the summer. If you put on your sneakers, after a couple of minutes you can take out your legs as if after a sauna. I have such a problem with my legs. They are very swollen from the heat. Therefore, I even buy a size larger to avoid corns. A good option for swollen legs – open shoes with straps. Well, if it's leather shoes. But it is expensive. Therefore, I buy an analogue from the skin of young dermantin.
Gorgeous look on the leg rag sandals on the platform. If someone goes to work, in public places – such shoes are very useful. If they have woven inserts, a light summer bag in the same style is perfect for them. All sandals are open, breathe perfectly, in harmony with the summer image. In them, I feel stylish and comfortable.
Do you like to walk in closed shoes? I – not always. I prefer mostly ballet shoes and moccasins. And I choose moccasins from natural materials: leather, suede. After all, synthetic shoes can not breathe. I also like bright shoes on the wedge. They are perfect for both dress and skinny jeans. I think of images in my head right away. After all, buying shoes for only one outfit is meaningless.
In the store, I decided to buy light sandals, shoes – ballet flats and flip flops. Naturally, slaps are considered the most practical. But if I have to go to visit or to a social event, I will put on wedge sandals under a chic summer dress.
And which shoe do you prefer? What do you usually wear?