This issue concerns not only women. But, imagine, and representatives of the stronger sex! My husband constantly asked, well, how many bags do I still need. And I myself do not know how many of them are necessary for complete happiness!
Being a little girl, I always wanted to have my little handbag, like adult aunts. When there is such a thing – you immediately feel like a woman. True, I also wanted to paint my lips and eyelashes like a mother.
So when mom was distracted, I took her huge leather bag and took out everything that was in it. Powder her nose, stifled her perfume, looking wallet. For some reason I thought that having so many things in my purse is necessary in order to be a real lady.
When I went to school, I wore a handbag. First, of course, it was painfully long to beg for it from my mother. But when I still got my way, I was happy about my handbag!
In principle, nothing has changed now. And adult girls are delighted with the new bags! But I realized that this accessory is not only to put the necessary things in it. Undoubtedly, it is very convenient to have everything at hand: a phone, a wallet, a purse with plastic cards, a business card, a first aid kit and all sorts of trivia.
But still the handbag speaks about the character of its owner, her status. When assessing the appearance, the majority looks at the accessories: shoes and bags.
My purse is the whole universe. What is it just not! But she's not alone. For companion for every day I am very kind. It should be practical, comfortable and suitable for me. You know, I carry bags for my mood and outfit. Sometimes you want to take a glamorous pink handbag with you, and sometimes I go to work with a classic miniature one.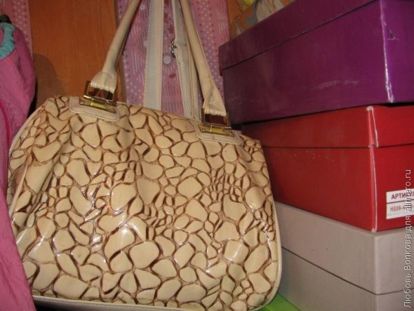 How much is needed for female happiness?
The easiest way to determine the number of bags is to understand for which events it is needed. In addition, I believe, an important criterion is not only the appointment, but also seasonality. For example, I have 2 bags for each season, per shift. Well, for the summer and even more, because the summer I love the most!
According to my calculations, on average, there should be 10 handbags. But these are my personal calculations:
– travel bag (you can put a lot of necessary things in it),
– a large beach bag (it is huge, and it not only holds a swimsuit and a safe tanning tool),
– 2 clutches (dark and light colors), but I think it is better to turn to the classics and choose a black and white clutch – they are universal, suitable for any evening dress,
– 2 small bags for evening walks,
– 3 everyday universal bags: summer, winter and universal bags,
– 1 or 2 sports bags or a sporty backpack – with this accessory it is convenient to go to the gym, go to a fitness room or go hiking.
Naturally, we are all different. Everyone has their own approach to everything. And our tastes may not be the same. But how many bags do you think a woman should have in her wardrobe? And in general, how many they need for complete happiness?


I adore bags)) I think that things can not be many, but a woman's shoes and bags should have a lot or at least … enough (although this is also a very extensible concept;))
As a child I had a handbag) Small, blue, with beautiful transparent inserts, which in turn were small colored stars. I took her everywhere with me! Some of my friends complained to me that they would not accustom my daughter to the bags. And I did not have to teach me) Apparently, I am a congenital handywoman)
. most look at accessories: shoes and bags. It can be used to determine the occupation of a woman, her wealth. ©
I do not quite like that)) Or rather, not at all) Shoes and bags always prohibitively differ from my wealth for the most part)) But I can't live without it. I'd rather eat crackers for a week, and my bag will be what I want!
How many bags I have right now, I honestly don't know. I think that it is about the same (plus or minus 2-3) as it was several years ago when I lost my passport … Maybe someone would calmly accept this situation, but I was excited to review the pockets of all the clothes I was wearing in the last week, to gut all my handbags … When a loved one came to me that evening, he froze on the threshold. I did not immediately understand what was the matter. He looked at the floor, the chair, the bedside tables laid with bags and puzzled … After a couple of minutes, he still walked away and said the catchphrase: And my mom has one bag, and the one I gave her. Then I immediately realized that we and his mom were very different)) Well, and there was a reason to count. At that time there were 21.) I choose each one carefully, I treat it carefully and love)