In winter, our shoes have a lot of enemies – snow, moisture, frost, salt, and various chemical mixtures, which we still love to generously sprinkle the streets from ice. I try to care for my favorite boots and shoes so that they keep their appearance and serve me as long as possible.
The easiest way to take care of her, so I adore my leather boots, and my husband prefers shoes made from this material. For the second year I have been daily using special wet wipes for the care of footwear for cleaning the skin from dirt and salt stains.
They cost no more than usual, but the difference is visible to the naked eye – apparently, there are moisturizing substances or even fats in the composition, which instantly add shine to the shoe, and saline stains do not reappear after wiping.
Alternatively, wet wipes soaked in baby oil (such as Sanosan, for example) are suitable. And if there is absolutely nothing at all, then you can use a few drops of ordinary baby oil or any nourishing cream that you need to rub with a dry cloth.
If there is damage to the skin (for example, knitted socks on daughter's boots), once a week I can put on ordinary black shoe polish on shoes. More often I don't do this because the skin after the cream becomes matte and I don't like to polish it with a brush.
Suede and nubuck shoes
Shoes made of these materials are more gentle and capricious, so I don't wear suede shoes every day. After all, dirt and salt stains to clean it more difficult. A special brush for suede comes to the rescue – on the one hand it is rubber, and on the other it has stiff bristles.
Brush cleaning efficiency is easy to increase if you keep your shoes over the hot steam. If you are a happy owner of suede shoes of light shades, this method will suit you perfectly.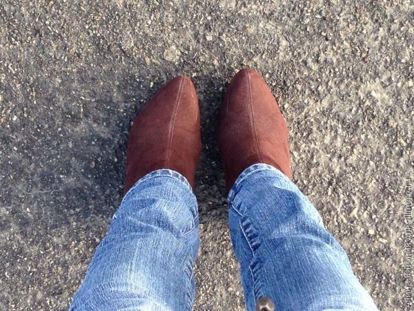 It is impossible not to recall the long-suffering ugg. Despite the abundance of opponents of these shoes, I have not yet met her competitors – this also applies to comfort and warmth. If the ugg boots are black, then a special black spray paint is perfect for color preservation. My own ones have a dark purple hue, so for their care I use only a brush for suede and a special water-repellent spray.
Of course, if I enter a puddle, this spray will not save, but when walking in the snow my feet are always dry. With the same spray, I process children's membrane shoes, but leather shoes do not, because the product mattifies the skin. Enough treatment once every 3-4 weeks.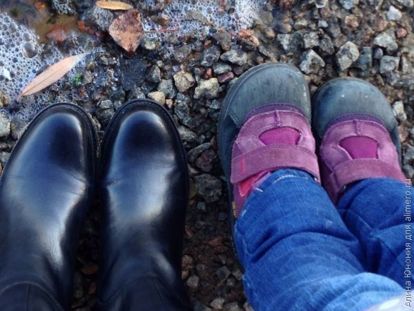 Nubuck – an alternative between skin and suede, neither fish nor meat, as they say. I have nubuck boots from TM Uggs with special water-repellent impregnation and sheepskin inside. To care for them is enough ordinary shoe cream, rubbing to shine is not necessary, because the nubuck does not shine.
1. For drying shoes, it is better not to use special heaters. From this, the skin can shrivel and even deform. If this has already happened, grease the shoes with a rich cream or castor oil.
2. If the shoes get wet, it is better to let them dry naturally. The traditional way with crumpled newspapers inside will help to speed up the process. And do not forget, membrane shoes in any case can not be dried near heat sources!
3. It is better to clean the shoes from dirt and salt stains immediately after coming home. No matter how tired you are, it will be more difficult in the morning. In addition, for the absorption of the cream you need at least 2-3 hours.
4. It is better not to use sponges for express shoe care. I do not argue, they give instant brilliance, but the reason for it is the presence of silicones. They create a film on the skin under which the skin dries out.
5. In wet shoes there are excellent conditions for the vital activity of fungi, moreover, the feet often sweat in winter. Therefore, do not forget to regularly take care of the insoles (change, clean, dry thoroughly) and treat the inner surface of the shoe with special aerosols.
How do you take care of your shoes in winter?