Reflecting on the theme of clothing for the home, immediately floated conversations of the female representatives about what you can not look like got into your home, even if no one sees you.
On the one hand, everything is clear – even though people close to you are your husband, children and relatives, but this does not mean that they are ready to see you in any way because of day to day. On the other hand, the house is our personal territory and I want to at least relax here and not think about how you look.
If we remember the 19th century and representatives of the noble family, then they spent a lot of time in their estates, but this did not affect the fact that each of them had already been in full parade in the morning and was ready to go beyond its estate if necessary.
Today is the 21st century and we have other priorities, but our house is still our fortress and we should feel comfortable in it. Choosing clothes for home, I would first of all rely on comfort and convenience, but this does not mean that these things can not be beautiful. In them, you should like both yourself and the people living next to you. Of course, it is desirable that everything was without fanaticism. There is no shortage of firms engaged in sewing home clothes. Want to choose for yourself a glamorous sports suit, silk robe or knit ensemble of shorts and T-shirts. There are no problems with shoes either, it can be original slippers, flip-flops or even rubber slippers with a massage effect (I recently saw such ones).
There are a lot of exclamations against a bathrobe, but why not have 3 options: a bathhouse, a casual one, and a smart one. Another question is if you have it in a single copy, and you wear it to holes.
Ideally, it is better to have several sets of home clothes: for cleaning, for relaxing, or even for working at home, etc.
Here is a homewear option from Cosmopolitan magazine.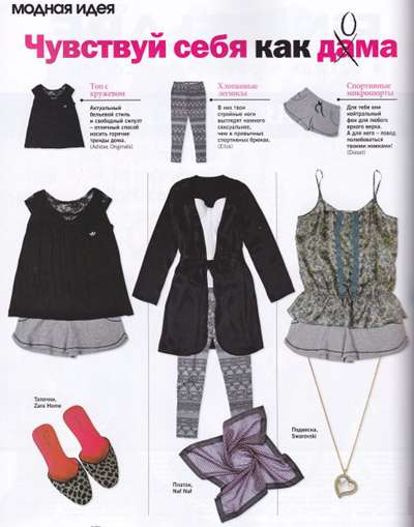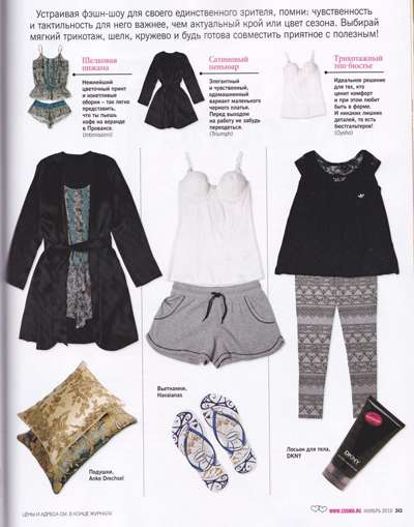 And what do you serve as home clothes?