Autumn. Everything is so bright, golden, bright. And the people around are gray, faceless, like shadows. And it is very disappointing to realize that I am one of those shadows. So I try to stand out in every way.
In adolescence, these were extraordinary combinations of short skirts and sneakers or sneakers, backpacks with rivets and chains, and long scarves sweeping the floors. And now…
I matured, matured my tastes
I will not say that I am a great fashionista and clearly correspond to the design trends. As for me, modern fashion is somewhat … um, as if to put it mildly … extraordinary and catchy.
Although, I took some of the tips. For example, this season in fashion will be things of soft warm pastel shades. I should look in at my parents and pick up my suede beige coat with a fur trim and large buttons-rivets. Very beautiful thing, though not very comfortable.
In such a coat it's nice to walk down the street, look into a fashionable boutique for a new makeup. But running after a child, trying to go around the puddles in a long, elegant, light-colored dress is not the most pleasant experience. Now I prefer jackets and warm sleeveless jackets (by the way, the latter are especially fashionable this season).
What else did designers come up with? For example, for some reason, overhead mobile elements of clothing, designed to visually enlarge the hips, are becoming massively fashionable. I am already pleased with my hips. The bones from under the skin do not protrude, so I can manage without additional volume.
But tunics and striped sweaters and / or rhombus – oh, that's great. Skirts in a diamond attract me too. Here I am thinking of sewing myself such a warm velvet charm with flare to the knee.
About the shoes. Designers agreed – let them wear what they want. Now it will be fashionable and boots, and elegant wedge boots, flat shoes or heels. I chose beige boots for me (after the birth I am especially drawn to pastel tones).
But when choosing a bag I could not resist at the sight of the classic – black leather.
Separately about scarves. Also fashionable, stylish and relevant. White scarf – the easiest. I carry it until it is very cold. Then there is a soft gray with elements of down inserts. And there is a long and very wide black (knitted itself complete with a bandage over his ears). But the latter is also too warm for this weather.
And, of course, my favorite mitts. I do not have a passion for gloves and, especially, mittens, but the mitts have sunk into my soul. Unfortunately, they have not yet taken them away (all the warm wardrobe is still with the parents), there are no photos. But I have workers' mitts – so that you can play with the child on the playground without fear of getting dirty. These are black with white (occasionally grayed out) stripes.
There are also striped, but poisonous gray-orange combinations. Again, handmade. But I practically don't wear them – they came out very warm and hard, my fingers bend badly. Now I am working on creating a more acceptable and not catchy color composition.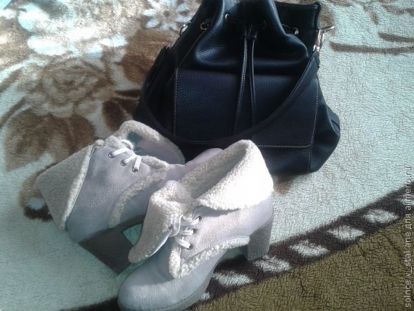 And what of the fashion trends you have chosen for yourself?