In the previous topic, we talked about purchases for children, but often purchases are not limited to children's things, because you want to pamper yourself, too, with new clothes. And the prices of shoes in foreign online stores beckon, especially if you compare them with insanely high in our shopping centers.
So, I have repeatedly written about the fact that in order to recapture the space cost of rent, sellers go to various tricks. In most cases, things are bought on sales for a penny, and then sold to us for a lot of money.
Of course, no one is immune from blunders, but I hope that my advice will help you at least minimize their number. Indeed, unlike children's, our shoe sizes do not change.
Review all your shoes. Typically, the manufacturer indicates next to the European size of American – on the sole, the inside of shoes, tongue or box. If you record all the data, you will easily notice the predominance of a certain size. The remaining deviations are exceptions rather than rules.
And remember that on American sites only American sizes are indicated. In the extreme case (if the manufacturer is Europe), the size of the manufacturer is additionally indicated in parentheses.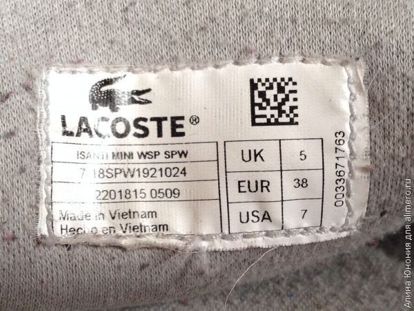 In this regard, I was lucky – I found a manufacturer who is perfect for myself, whose shoe is perfect for my foot, even if it's boots or ballet flats. And this is Calvin Klein.
Unlike our boutiques, prices for shoes and clothing of this brand are quite democratic. For example, high-quality leather shoes can be purchased for 40-60 dollars (while prices start from 120 in our stores).
I don't know how to connect it with my physiology, but I both fit 37.5 and 38 equally well. Interestingly, the European 38 for some reason is approximately equal to the American 38, while the other dimensions go one less (EU37 = EU36 etc.).
I have also tested some other American brands on my own experience and I can definitely tell you that they are the same size as European ones. These include: Jessica Simpson, Clarks, Victoria's Secret, Old Navy, Ralph Lauren, Uggs, Bearpaw, Nine West.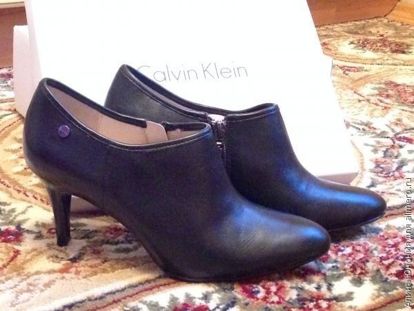 I usually shop at stock sites (6pm.com, amazon.com, shoes.com, zappos.com, etc.). Do not be lazy to look at the official website of the manufacturer, to see its original dimensional mesh with the size of the insole.
On some sites (for example, RubberDuck) there is a special form where you need to enter the length of the foot (in cm or inches), the stock if necessary, and the result will immediately make it clear which size to choose.
Do not neglect viewing reviews. Usually, buyers do not forget to be noted on the site, especially if the size of the shoe does not match the stated.
Determine for yourself what is best – shoes are big or small. For example, for me there is nothing worse than cramped shoes, which is why I would rather take half a size larger if I doubt, but not the other way around.
Winter shoes should not be abutting, in case you suddenly want to wear warm socks. But here it is not worth to plow. For example, do not overdo it with a stock when buying shoes on sheepskin (Uggs, Bearpaw) – the fur is trampled down in a few days by about half a size.
But sports sneakers are quite possible to buy half a size more. After all, shoelaces or velcroes usually fix the foot well, and when playing sports and walking, the legs usually steam out a little and increase slightly in size.
By the way, contrary to the assurances of sellers in stores, the length of the shoes does not change depending on the time of wearing. Completeness may change, but not length. Therefore, do not repeat my puncture when I dare to buy suede shoes, and for some reason my friend said: What are you, this is suede, she will stretch, take it a size smaller !. Manufacturers are not stupid, and produce shoes in accordance with the possible natural deformation.
Monitoring the domestic Internet
Domestic fans of online shopping are often united in communities and forums where they exchange experience and information about their purchases. So, it's quite simple to find whole tables with approximate dimensions in centimeters for many well-known American brands.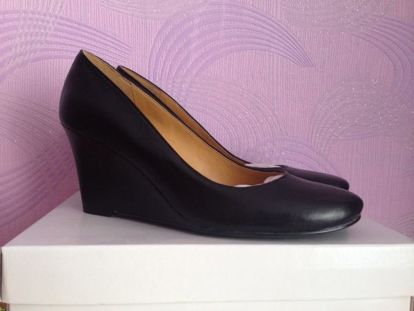 If information could not be found, try asking a question. They don't take money for the demand and it's quite likely that there are people somewhere who have already purchased the shoes you are interested in.
Another trick I sometimes use, even if it's not entirely honest. I find in the local online stores the shoes of the brand I am interested in and with the kind of interested buyer I ask to measure the length of the insole.
In any case, upset if the purchased shoes did not fit you, you should not. First, the next time you will be smarter, and secondly, it is easy to sell an unsuccessful purchase. Moreover, you chose for yourself, and as sure, and the price is reasonable.
And finally useful tips:
1. If there is no desired size, look for an option on the site. report availability, This is especially useful if the shoes, as they say, have sunk into the soul.
2. Shopping start with sort by size. So you save yourself from frustration about the fact that the vending couple is not in your size.
3. Watch video. In the description of the shoes are often present videos with a description, do not be lazy to watch them, because you can see the shoes in dynamics, which will help you make the right choice.
4. Increase scale. Carefully look through the seams and places with glue. Of course, you will not be sent exactly the pair that is in the photo, but on the whole you will be able to assess the quality of the manufacturer
5. Pay attention to material. Unlike our vendors, Americans practically do not cheat on the naturalness of the material.
And how well do you buy shoes in online stores of America?