Finally, winter came into its legal rights. Pleased everyone before the New Year with white, fluffy, creaky snow. So it's time to revise your wardrobe, to be fully prepared at holiday parties.
Before the start of each season, absolutely all women think that they have nothing to wear. It is necessary to throw away everything that lies in the closet, and get new.
What takes shelves is not at all wearable. In fact, for each season it is enough to have a basic set of things that fit well together.
For winter is enough 10. Do not believe? Let's look at:
1. Dress with long sleeves.
It does not matter at all what color it will be, the main thing is to have a high-quality, well-shaped, not wiping or stretching material on the back and on the elbows.
The dress should not be too short or long, the best option – in the area or slightly above the knee. Do not purchase an everyday warm dress with a scattering of sequins or a complex combination of decor, but elegant lacing, asymmetrical cut or elegant brooch will be very useful.
2. Skirt – pencil.
The universal style of such a skirt can be put on to work, to meet with friends, and on a date. A little advice: it is not necessary to get a classic black skirt, there are many interesting models of various colors and with a variety of decor: buttons, patch pockets, locks, dummy lines.
3. Jeans or leather pants.
Choose tight jeans that perfectly accentuate the figure, and if you like leather things, feel free to take leather pants – they never go out of fashion and will give independence to the image.
4. Bulky knitted sweater.
A sweater is a must-have for winter walks, trips to the camp site or informal meetings with friends. Choose a thing you like, so that you can see yourself in the mirror and enjoy yourself. Pay attention to the wool: it should be soft, not to stab and not crawl out.
5. White blouse, shirt or T-shirt.
Which of these three options to choose depends on your style.
6. Warm jacket.
At first glance, it seems that a woolen jacket is not a very suitable thing for winter, but, in fact, a restrained model made of inconspicuous checkered fabric or a front fly, the scar is perfectly combined with jeans, leather pants and turtlenecks.
Buy any that will look good on you, do not forget only that the coat must be strictly in size and the length of the sleeve should completely cover the cuffs of clothes worn under the coat.
8. Boots or high boots.
Any practical leather model will do.
Modern fashion has made a scarf an independent accessory and now it is not necessary to match it with the color of a coat, jacket or purse, but you can highlight a bright resonating spot. The main thing that the colors were chosen with taste.
Leather, suede, knitted. The choice is yours, just try to match them with the rest of the wardrobe, because even such a trifle as gloves can become an elegant addition or, on the contrary, a blunder.
Well, since the Blue Goat year has come into force, some blue thing must appear in your wardrobe. I bought a blue sweater. It will warm you in cold too, it will be suitable for work, and at the party it will look spectacular!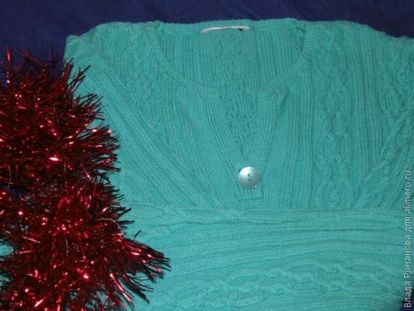 Join the New Year with a good mood and a new wardrobe! Happiness and love to you, dear women! Happy New Year!
And what's new you bought for the holidays?