With the onset of cold weather, I have a need for protective equipment in order to prevent the harmful effects of frost, wind and snow on the skin of the face. To be honest, for the past few years I have been using a weatherproof cream for my daughter.
During my next visit to the Belarusian cosmetics shop, I turned my attention to a novelty – a protective face cream with the promising title Winter Care.
The special formula of this product is intended for skin care in winter, when the skin is affected by the aggressive effects of frost, snow and wind.
The active ingredients create an invisible air-tight film on the skin, which provides a protective effect. It is recommended to apply the cream not only in the morning, before going out, but in the evening. Thus, it helps to restore the skin and prevents dehydration.
Here, as in all Belarusian-made cosmetics, there are natural ingredients. Among them: jojoba oil, beeswax, shea butter and sesame (to be honest, I first meet this component in cosmetics), wheat germ oil. There is also liquid paraffin and glycerin.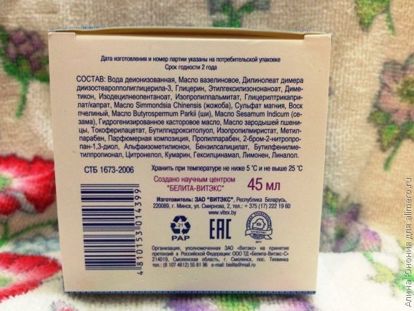 Turning to the world wide web, I learned that sesame oil (or sesame oil) is very beneficial to the skin. On its basis make sunscreens. In addition, it perfectly helps to soothe irritated skin, remove its redness, and eliminate itching.
The first impression is color. I know that the cream is usually white, but this product is not just white, but white! At first, the smell seemed very familiar to me, but after several uses I remembered that the cream of my youth has a similar smell – classic Nivea in a blue jar. And this is not at all bad, the smell is very gentle, pleasant and unobtrusive.
The structure also has much in common with its counterpart. However, the Belarusian cream is not so dense and, as a result, is applied more easily. Winter care is absorbed quickly enough, as for such a fat cream. The manufacturer recommends applying it for 20-30 minutes before going outside, this is exactly the time needed for complete absorption.
Theoretically, this cream can be replaced with day (and even night), but still it is too fat for me. Therefore, I continue to use moisturizers after waking up and before going to bed, and I apply a protective one just before going out.
He does his job perfectly well – even during a strong wind, the cheeks (and they are the ones who suffer from me) do not blush, do not weather light, and do not peel off. At the same time, there is no greasy glossy shine, as is often the case when using such products.
Winter care from Vitex – the optimal combination of quality and price (a jar with a capacity of 45 ml cost me 120 rubles or 30 UAH). With daily use of one jar may well be enough for the whole winter. However, the cost allows you to purchase another one if necessary.
As usual, I still hope that manufacturers will read my review and start producing products in ceramic containers. I have no other claims to the product, and I strongly advise you to purchase it.
What kind of protective equipment do you use in the winter?