I love acids in facial skin care. Constantly pass courses of products with acids to maintain the skin in good condition. Today I'll tell you about two products from the Whitening series with Vitex acids: Whitening mask and Tonic-peeling.
The manufacturer (Belarus) promises the content of 10% fruit acids and 1% salicylic acid to exfoliate the cells and speed up the process of skin whitening. The mask softens, moisturizes, brightens the skin, tightens, strengthens and improves the complexion. Volume is 100 ml.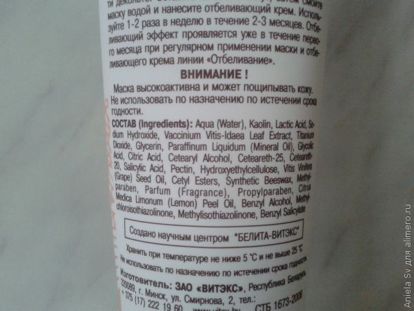 Of course, I did not take this mask to whiten skin and age spots, but because of the acids that have a beneficial effect on my skin, they dissolve unnecessary inflammation and hypodermics. I recommend everyone to try this mask. Price – 120 rubles.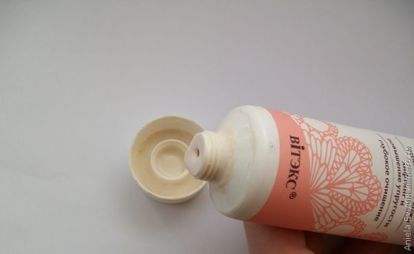 The mask is in a comfortable opaque plastic tube of white color with a very uncomfortable turn-away lid. Since the tube is too large a hole, the mask may leak, be careful. The mask is very liquid, opaque milky color with a bright sour smell.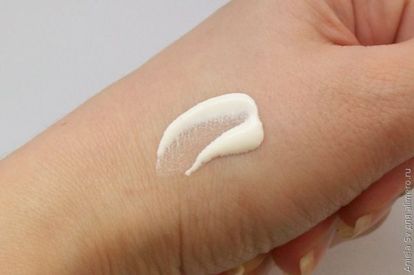 Ingredients: water, clay, lactic acid, lingonberry extract, titanium dioxide (apparently gives color), mineral oil, glycerin, glycolic acid, salicylic acid, pectin, lemon oil, parabens. The mask is applied easily, in a thin layer (the manufacturer advises a thicker layer).
Recommendations for use: 1-2 times a week for 20-25 minutes. I put on a mask once a week for 20 minutes. During this time, the mask does not dry out like ordinary clay masks, which does not cause discomfort. Wash off easily. When applied in the first minutes tingles the skin due to active acids.
The result is good – the pores have been cleaned, the complexion has improved, the skin relief has become more uniform. With this mask, I forgot what black dots are. On the nose and chin, they simply did not remain. After rinsing, the mask dries the skin a little, so I apply an additional moisturizing mask.
Whitening tonic peeling for face
The manufacturer (Belarus) makes promises exactly the same as in the case of the mask. The volume of a bottle is 150 ml. The tonic is in an opaque white plastic bottle with a convenient dispenser. Seemingly transparent water with the same sour smell as the mask. A little lipkovat.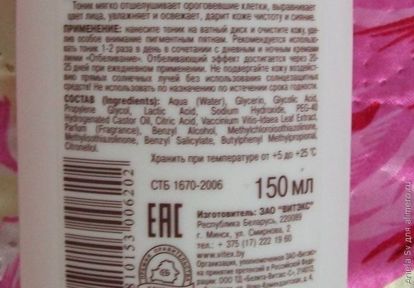 I use tonic in the evening before applying the night cream. Tony skin does not pinch and does not dry. The effect is similar to the mask. Ingredients: water, glycerin, glycolic acid, lactic acid, lingonberry extract. Price – 120 rubles.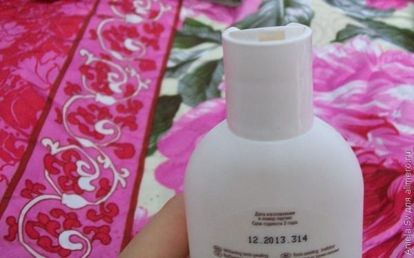 Decent products for their low cost. Pleases Belarusian manufacturer. I like the mask more than tonic, I buy it already 4 times. I will not buy tonic any more, because I do not see any sense in it.