Surely every girl sometimes has pimples on her face. I have them appear in the PCS period. Usually these are 1-2 small specks, but they annoy me, and I try to fight them with white clay. I will tell about its use in more detail.
White clay action
As I understood, white clay is intended for those who have oily or problem skin, because it has a drying effect. My skin is prone to dryness, so I place it only on the spot where the pimple appeared.
Face benefit
A friend told me about white clay. I thought earlier that it is used only against cellulite. But it turned out that it is possible to make masks for the face and even for hair. It is inexpensive – only 35 p. for packaging, and the effect, as they say, on the face.
White clay has a lot of positive properties. It acts as a mild scrub and relieves the skin of dead cells. With the help of masks from it you can relieve irritation, get rid of pimples, whiten the skin, improve their elasticity and elasticity and improve the complexion. And if you use this cosmetic product regularly, you can prevent the appearance of wrinkles.
Hair benefits
As I said, white clay can be used for hair care. With its help you can strengthen their roots, eliminate dandruff and prevent its occurrence. Hair after a mask gain gloss and a healthy look.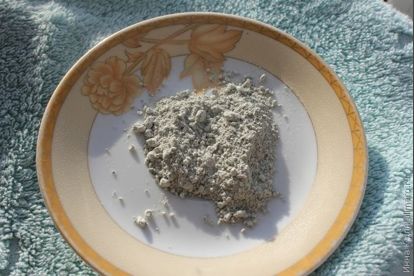 I'll tell you how to make a clay mask. Pour clay in a plate (only non-metallic), dilute it with water until thick cream. It is not worth making the mixture too liquid, because she will drain from her face. Add a few drops of rosemary essential oil. Then put the mixture on pimples or completely on the whole face. We wait for the moment of drying the mask and wash it off with warm water.
After the procedure, the pimple becomes dry, the impression that everything is pulled out of it. And after 1-2 days, he disappears altogether.
Hair Mask
For the hair mask is done similarly. Dry components are diluted with water in a 1: 1 ratio. Apply the mixture should be on dry unwashed hair. Then we put a shower cap on our head and wrap a turban from a towel on top. The mask is washed off after 40 minutes.
Although on the package with white clay it is indicated that it is anti-cellulite, so I have not used it yet. Therefore, if someone can share their experiences, be sure to write!