I look at my hands and understand: it is necessary to do something! The skin is dry, peels off. Constantly I want to lubricate the hands with cream. The spring and our too alkaline water are to blame. For some reason, I do face masks regularly, but I forget about hands …
I rummaged in the Internet in search of recipes. I hooked recipes, where the main ingredient – castor oil. Surely, you know that this oil is a wonderful cosmetic. I have been friends with him for a long time, but somehow I used more to strengthen hair, nails and eyelashes. I decided to try its effect on the skin. I do hand masks now in about a day. I do two slightly different in composition, and I like to change them.
My masks:

– olive-castor
– honey-castor
Mask of a mixture of oils
– 5 parts castor oil
– 5 parts olive oil
– 1 part of an oil solution of vitamin A
The action of the mask: eliminates peeling, makes the skin softer, smoothes fine wrinkles.
We mix our components in the outlet. Apply thickly on steamed hands. And then an unusual decision – wear rubber gloves. Gloved hands dipped in a basin of tolerantly hot water for fifteen minutes.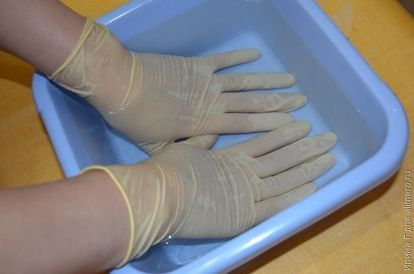 In principle, you can go and wash the dishes. The effect will be no less, and household chores will diminish. After the dishes are washed, wait another ten minutes and remove the gloves. There is not much oil left on the hands. I massage my hands with oil and then wet them with paper napkins. If I make a mask for the night, I put on cotton gloves and go to bed. True, I can't stand it until the morning, I take it off. But this is enough.
The result: the skin has really become softer and less flaky.
Castor oil plus honey
-two tablespoons of liquid honey
– 1 teaspoon of castor oil
The action of the mask is softening.
Since liquid honey only happens in summer and autumn (I mean real honey, and not yellow-flavored honey syrup that is sold in the store), I will melt my thick honey in the microwave. If you are accustomed to a water bath, then do so. I add oil to it and put it warm on my hands.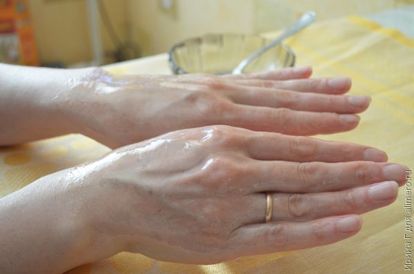 I sit in shiny gloves for 5-10 minutes. Wash, lubricate moisturizer. By the way, out of this amount of ingredients, the mass turned out to be two times more than necessary. I'll clean it in the fridge and use the leftovers in a day.
I like this mask because it does not need to be kept for a long time and then remove excess oil – it is washed off well. It can be done at any time of the day, even before leaving the house. But in general, masks for hands are advised to do at night.
Result: noticeable softening and comfortable skin condition.
I like castor oil based masks. This tool smoothes wrinkles and even has healing properties. And the fact that castor oil strengthens nails well, a fact known to many. As a result, double benefit for hands.