Shamefully for a long time I did not think about what colour my teeth The snow-white smile always attracted my attention, but I didn't know how far my shade of white was from the ideal.
I thought it was enough just to brush my teeth – and this is the maximum that I can do for my teeth. But something made me to focus on color, and I began to achieve the desired result.
My requirements for whitening toothpaste

1. I tried pasta with a wide price range: from 25 to 250 rubles. All of them were designed to significantly lighten the tooth enamel. But not for nothing that their prices differed so much from each other. Without going into details, for myself, I realized that the paste when bleaching should not destroy tooth enamel. And natural components are responsible for this.
2. In addition, the effect should be more or less persistent. Just paste without dental whitening is unlikely to make your teeth, like the actress from the cover. But for me it even mattered that in half a day my teeth were not too dark – SPLAT coped with it.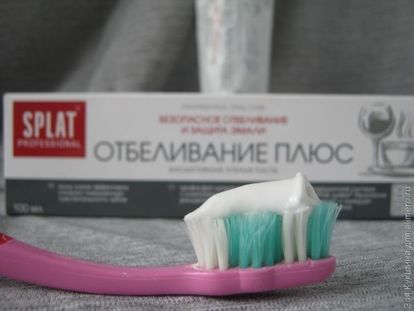 3. For some reason, not all whitening pastes take care of breath freshness. Rather, they do not fully. But I can't brush my teeth at the same time with two pastes!
four. Price should not cause spasms of greed in my wallet.
Eureka!

Often the pastes I tried combined several qualities that were important to me. But immediately all the requirements are fulfilled SPLAT pasta. I'm glad!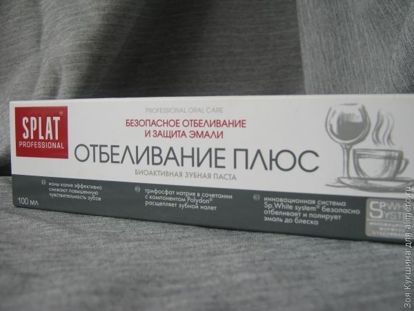 Bonuses from the company

The manufacturer focuses on an innovative approach to teeth whitening, based on the bioactive effect of the paste. The paste contains natural ingredients (papaya enzymes, potassium ions, sodium salts, fluoride ions, etc.).
As a result, we are promised that:
– the paste is suitable even for sensitive teeth,
– enamel is clarified,
– splitting plaque
– breath is refreshed,
– Teeth are protected from caries.
I happily subscribe to all these promises: everything is exactly as indicated on the packaging.
Pleasant trifles

I like design packaging: discreet nobility, as I called him.
And even inside each package is letter under the signature of the head of the company. If you were a toothpaste maker, what would you write in such a letter? 90 percent (or even more!) This opportunity would be used to remind once again about the merits of their products, that is, for promotional purposes. But here it is different.
Each letter carries with it reflections about events in the world, about ecology and kindness, about megacities and provinces – about life in general. And there is no far-fetched advertising. The first time I was very surprised by this unexpected move. Do not often find such an abstraction from making money from a business person.
Evaluation

Five out of five on the background of the rest of my pastes tested.