I learned this way of dealing with acne from my mother. Calendula is widely used in various medications, it is included in tinctures and treats all sorts of diseases.
The methods that are transmitted in our family are quite diverse. Calendula tincture can be used as a mask, ointment, powder.
Properties of this flower
Calendula tincture has excellent anti-inflammatory qualities. About two years ago I noticed an emerging acne, immediately took a cotton swab, dipped it in tincture and smeared the place of inflammation. The pimple passed quickly and almost painlessly.
Calendula has remarkable regenerative abilities. My son disobeyed me and squeezed a pimple, which led to the formation of a scar. And here helped the tincture of calendula. I put it on a cotton swab and rubbed it into the affected area. Gradually, the stagnant stain resolved, and the scar leveled off. This was due to the fact that the blood circulation increased significantly, and tissue regeneration began.
With the help of calendula tincture, I learned how to deal with subcutaneous acne. As soon as they popped out, I put this tool with a cotton swab. If the hypodermic abscess was not very large and deep, the pus rose already the next morning.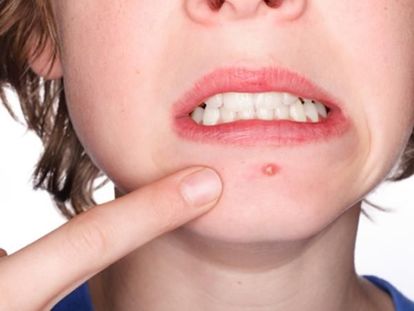 In no case squeezing out pus is recommended, because an infection can get into the wound. Burning with calendula tincture helps to completely get rid of such acne in just a couple of days.
Thanks to the use of this tool, sebum is much less pore secreted. Calendula has an excellent astringent effect. When I smeared her face skin, it led to a narrowing of the pores, which immediately manifested itself in a decrease in sebum secretion.
By the way, acne appears most often because of oily skin, when the pores become clogged with sebum. Clogged pores are comedones.
When bacteria enter the comedo, an inflamed pimple immediately forms. So using calendula tincture can not only fight acne, but also prevent their formation.
What happiness, this medical miracle literally for pennies can be bought in any drugstore.
Mask

Here is our homemade mask recipe for removing skin irritation and lightening acne, which includes calendula tincture: millet flour, aloe juice and water.
One hundred grams of boiled water is mixed with a tablespoon of flour, calendula tincture and aloe juice. I put this mask on my face, leave for about five minutes. It is great for skin inflammations.