I often use cosmetics prepared by myself. Comparing them with the store, I came to the conclusion that cosmetics from natural ingredients almost never cause allergies and a much more gentle effect on our skin.
Milk can be called a universal product. Its use in food has a beneficial effect on our health, and its external use helps to saturate our skin and hair with all the necessary vitamins and minerals. Not without reason, according to scientists, Cleopatra herself washed her face with milk every morning.
Today I want to share with readers my favorite cosmetic recipes containing this useful product.
In order to preserve youth and freshness of the skin for a long time, washing with milk, like Cleopatra, is not at all necessary. Expensive is a pleasure in our time.
It is enough to mix in equal quantities the milk and the cooled broth of any plant (I prefer chamomile or linden), wet the cotton swab with the resulting liquid and use it instead of tonic. Milk perfectly moisturizes the skin, herbal decoction nourishes it with vitamins.
Also once a week you can pamper your face with a milk-honey mask. It is prepared very simply: it is enough to mix the milk with honey to the consistency of a thin gruel and apply the resulting mask on the previously cleansed skin of the face. After 20-25 minutes, rinse with warm water. You will be surprised how soft and smooth your skin will be!
Hair care
Using milk you can make masks suitable for any type of hair. My hair is slightly prone to fat and not all masks and balms have the desired effect. Very often, after using them, my hair appears greasy and dirty, so I experiment only when I don't have to leave the house.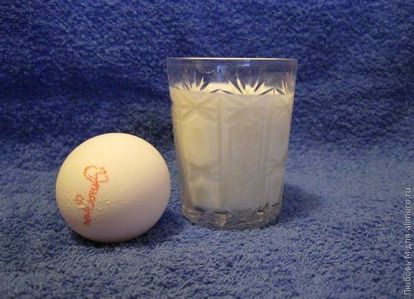 The recipe for this hair mask I read in a magazine. I liked it so much that now I do it at least once every three weeks.
Per 100 g of milk, you need to take one pre-beaten egg. Mix them together by adding 1 tsp. honey and a few drops of essential oil (since my hair is slightly oily, I use mint). Apply the mixture over the entire length of the hair, wrap with cling film and leave for an hour and a half under a warm towel.
This mask is well washed off due to the fact that it contains a very small amount of oil. Hair after its use becomes silky, shiny, but not greasy. Thanks to the essential oil, they smell great!
I hope that my recipes will appeal to readers. Do you use milk to care for your face and hair?