Recently, I was presented with an aroma lamp as a souvenir. In addition to it, the donor put the essential oil fleur de orange and star anise in 1.5 ml small bubbles. I liked the aroma lamp, but the smells are not very. Remembering that all essential oils have a certain effect on the body, I went to the Internet and found a lot of interesting things.
It turns out that there are a lot of oils. The actions they render to a person are divided into 2 categories: emotional and cosmetic.
Esters can soothe or tone up, relieve over-stimulation or invigorate, drive away depression and restore mental balance. I give a useful table of the most popular essential oils: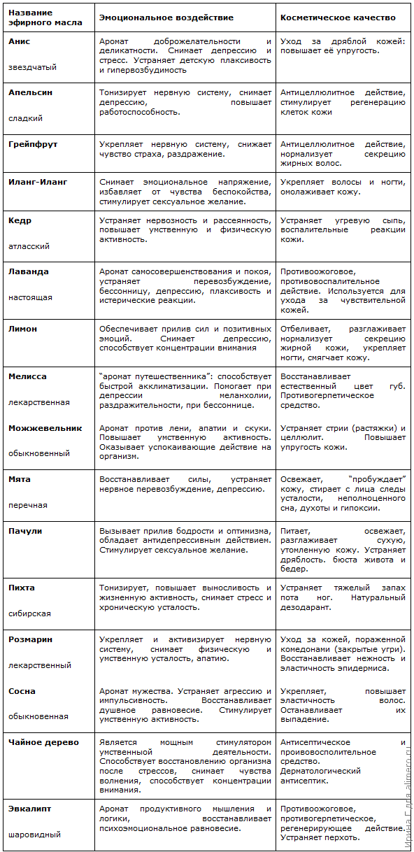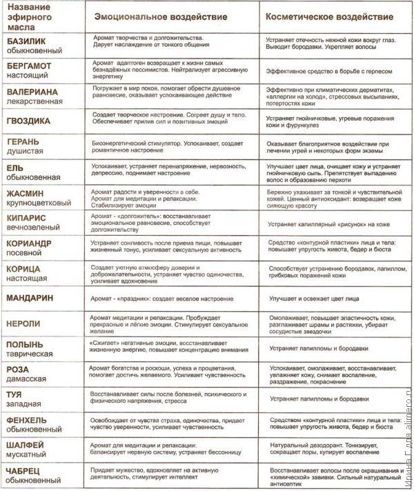 Probably, my child is so thick-skinned that star anise (which was supposed to calm him down) did not have the slightest impact when he ran circles around the apartment. And the smell of anise is quite specific, and I personally am not very pleasant in everyday life.
It is not enough for me to believe that the ethers hovering in the air can contribute to logical thinking or quick acclimatization. Removal of depression is in the column of the emotional effects of almost all oils, which is also quite suspicious.
Depression is a serious disease that cannot be cured with pleasant smells alone. Well, if the fashionable word depression, the creators of the table call the usual sad, then it most likely passes only because of the novelty of the omnipresent flavor: you walk and smell the whole day, distracting from sad thoughts.
Much more convincing, as for me, is the use of essential oils in cosmetics or treatment.
We all use the fir oil for inhalation for a long time, we don't use eucalyptus oil directly, but it is in the composition of the ointment Dr. Mom.
I used orange oil in coffee and honey body wrapping (great stuff, by the way).
In general, I read about the cosmetic properties of oils and raided the nearest pharmacy. As a result, I now have tea tree oil, rosemary, pine, juniper, and orange.
Essential oils can not be used directly on the skin., they must be mixed with the base oil. For these purposes, I use apricot, almond or olive oil.
For face I use almond or apricot oil in combination with orange and rosemary essential oils. Orange stimulates cell regeneration, and rosemary regulates sebum production, making the skin soft and smooth.
A couple of times took oil bath rosemary, juniper and tea tree. In a tablespoon of milk, stir 5-7 drops of essential oil (I could make 2 drops of each oil). Pour this enriched milk into a bath filled with warm, not very hot water (37-38 C). Need to wash before such a procedure. After it is worth immediately wipe with a towel so that all the utility absorbed.
To increase the elasticity of the skin of the body I use olive oil with essential oil of orange and juniper. In a tablespoon of base oil, I stir 2 drops of each oil.
I use pine oil in a hair mask. In the spring the hair becomes dull and fall out. I start drinking brewer's yeast with sulfur and make masks. Since my hair is not very long, I often make masks of burdock and castor oil. I mix three teaspoons of burdock oil with one teaspoon of castor oil and add 6-8 drops of pine essential oil there. I apply the mixture to the hair roots, wrap it up and hold it for about an hour.
Essential oils can be enriched with creams and lotions, they can be used to remove makeup, and you can pour it into special jugs as an aromatherapy and only for one person – for you. And if you ask yourself to make your own fragrance, you can play with its composition and proportions for an infinitely long time. In general, there is room for creativity.
And how do you use essential oils?