Probably, not only for me, but for many women, the kitchen is a personal beauty salon. Closer to midnight, the household is already sniffing in its beds, and I sit in the kitchen, sawing my nails or kneading masochka. And for cosmetics for the mask do not need to sneak to the chest or in the bathroom: all the necessary and useful products for cosmetic procedures I find in the refrigerator.
The best face and hair masks, in my opinion, are homemade. Unless, of course, you are not allergic to certain products. Another thing is that the purchased one took and buttered, and you will have to tinker with your homework while you cook.
But in it there will be no preservatives, silicones, petrochemicals and other unhealthy components, with which we already stuff our skin, using decorative and care cosmetics.
So, open the fridge.
This is not only a ready-made salad dressing, but a complete cosmetic product. Provided that the mayonnaise without foreign products: sunflower or olive oil, eggs, vinegar and mustard oil.
For the face, this mixture is greasy for me, but sometimes I put mayonnaise on the length of my hair, if there is nothing else on hand. The head is easily rinsed, the hair is then very shiny.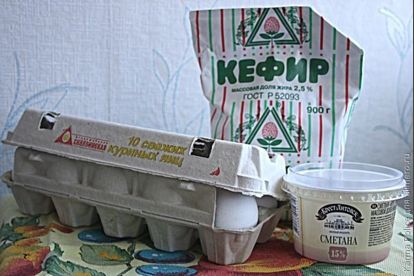 Eggs and sour milk
These products are certainly in every fridge. I use them both together and separately in masks for face and hair.
I share the egg: I use white for the face, the yolk for hair. The protein tones and mattes my combination skin well. Most often I apply it on my face in pure form, sometimes I add a little starch or a drop of essential oil.
I enrich the yolk hair mask with fresh lemon juice, honey – this composition is perfectly suited for oily hair. If the hair is dry, then the mask should be made more nutritious and add some butter or sour cream to the yolk.
Sour cream for masks, I also use, but not fat. For density, add in it oatmeal or wholemeal flour.
And my hair is very kefir love any fat. Favorite mask – colorless henna plus kefir or just kefir on hair. But these masks, as not zakutyvay, very run away from the head. So you need a collar from a towel so as not to mess clothes.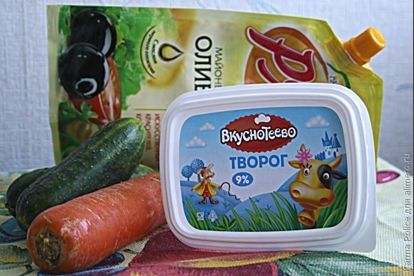 Fruits, vegetables and greens
The storehouse of vitamins and nutrients – fruits, vegetables and herbs. Outside, they, too, work wonders!
From fruit for masks using apple and banana. Grated apple with sour cream tones and cleanses the skin. The mask of banana with cottage cheese has anti-aging effect, it nourishes the skin great.
Excellent masks come out of the berries – strawberries and grapes. I crush strawberries with sour cream, and just take a grape, nadkusyvayu and wipe face with a berry.
My favorite beauty-vegetables are cucumber and carrot. Cucumber moisturizes the skin, and carrots perfectly whiten and even out the color. From the green I love parsley! I mix with sour cream – this mask whitens and smoothes wrinkles, even suitable for application to the eyelids.
So fresh and healthy products in my fridge not only feed me, but also help to be beautiful.
And what do you have in the refrigerator, tasty and useful for skin and hair?