Not so long ago, the new Agafya Bathhouse series from manufacturers, Grandmother Agafia's recipes, appeared on the market. The entire series is presented in an economy package in the form of a soft doy-pack bag with a screw cap. The range is inexpensive and varied.
Since my clay mask was over, I chose the Tar cleansing mask for the steam room.
The manufacturer (Russia) promises deep cleansing of the face, opening of the pores and control of the sebaceous glands. The mask removes irritation, gives the skin a healthy and well-groomed appearance. Sage and honey in their composition tone and enhance skin elasticity. Birch tar is a natural antiseptic that normalizes skin balance. Salt brine opens the pores and cleans them.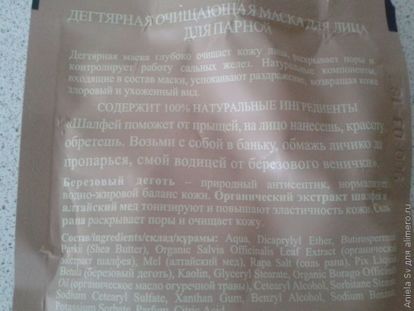 Packaging and appearance
The mask is enclosed in an unusual packaging – a soft plastic bag such as a doy-pack with a screw-on plastic cap. This format is unusual, but convenient because you can squeeze the product to the end and use it. The package itself is opaque, which causes some inconvenience with control flow.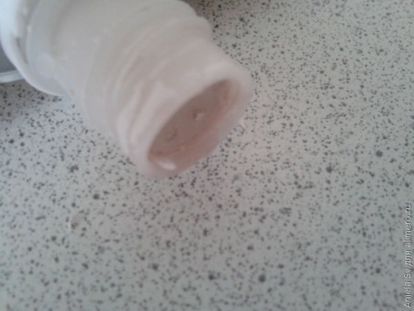 All products of this series are very beautifully decorated and stylized. On my mask are very cute images of birch leaves. On the back of the package is useful advice from Agafya. The volume of the mask is 100 ml.
The mask is of a dense (clay) texture, but despite this, it is easily squeezed out of the package. The mask is light coffee-colored, uniform, it smells bright, but pleasantly natural, I did not understand what.
Since the mask is clay, I use it 1-2 times a week and afterwards I will definitely use a moisturizing or nourishing mask to prevent dehydration. The mask is easily applied to the face and distributed, after 10 minutes it stiffens and I wash it off. It is also washed off easily, without leaving marks.

After removing the mask, the skin is clean, elastic, pores are cleaned. The mask still dries my skin a little, but almost all clay masks do this to me, so I don't see a minus in it. I really want to try a mask in the steam room, but so far there is no possibility. I think in such conditions, it will show itself in all its glory. And so, and at home it justifies the promises of the manufacturer.
It contains water, shea butter, organic sage extract, Altai honey, brine, birch tar, clay, organic oil of cucumber herbs. The composition is always good and natural.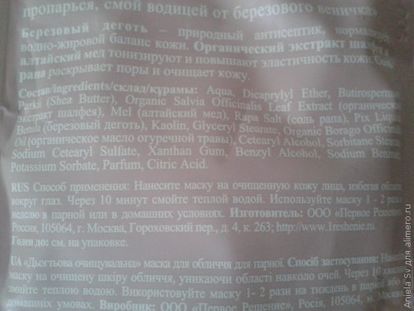 Summary
I think this mask is very decent. I like the action and effect. I want to try something else from this series.
And now, girls, attention, price. 30 rubles. I believe that for this price every girl should try this mask.