Summer has come, which means it's time to take care of your skin and a safe tan. Since my skin is dark, in the summer, being in the city, I use products with a sun protection factor of 15-20. This summer, my choice fell on a spray for sunburn from Yves Roshe.
The manufacturer (France) promises a practical bottle and effective protection. Light texture will provide maximum protection and will not be felt on the skin. The composition of the purified plant extract of Madagascar Afloi.
Packaging and appearance
The spray is enclosed in a convenient bottle format. A small bottle of white color with decorative elements of yellow color. Volume – 150 ml. The sprayer is hidden under the transparent cap. The spray gun is well made, it does not leak, the spray is small, it does not flow in drops – I like it.
The only negative is that the bottle is opaque, which is inconvenient for me – since it is not clear when the remedy will end – unless it is determined by weight).
The spray itself is an opaque milky white color in the form of a thin oily liquid with a pleasant aroma of coconut for me. Spray is absolutely non-sticky, absorbs quickly and leaves no marks on clothes and whitish stains and stains. On the skin during the day is not felt, not flowing.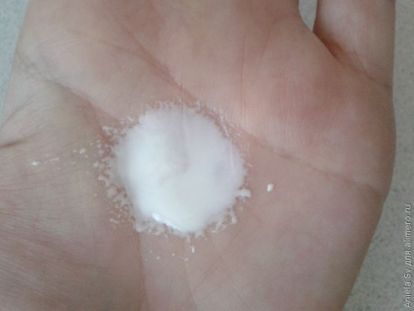 Application and action
Since this summer is very hot, I use spray every day – put it before going to work or on the street. I protect them neck, arms and legs. I have enough pairs of pshikas on my neck, 4 on my hands, about 10 feet. Of course, this is not enough when going to the beach – I update the spray every time I take a bath.
Now about protection – all the time while I use this spray – I have never burned, although my skin often burned before. From what I conclude that the spray works! My skin is under reliable protection from the sun, harmful ultraviolet rays and, as a consequence, the appearance of age spots.
Ingredients: water, glycerin, chemical filters, vitamin E, allantoin, afloi extract. Parabens are present. Full composition on the photo.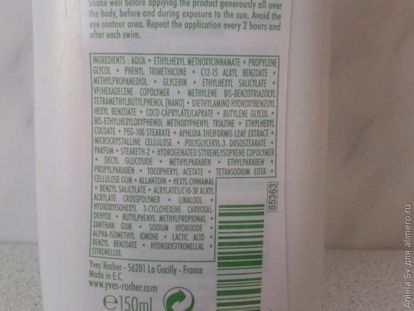 Summary
Spray became my favorite for the summer. It is not greasy, not sticky, absorbs quickly and protects reliably – what else is needed for an ideal sunscreen? I recommend all girls to try this spray. Its price without discount is 790 rubles.