Someone has already come real summer, but the weather still does not want to please us. For example, today we wanted to go to nature, and it was raining outside the window and only 8 on the thermometer. So we have to, in order to tan, use the artificial sun – the solarium.
I have never used a tanner before, but this year I want to try. But before using the services of the nearest beauty salon, I decided to get as much information as possible about the tanning salon.
How long should the session last
As a person who has never been in a solarium, I am primarily concerned about the duration of sessions. As with sunbathing, the main thing here is not to overdo it and determine your skin type before you go to a beauty salon.
For girls with sensitive skin that instantly burn, it is better to completely give up the tanning bed. For those who sunbathe normally, but still can not be attributed to dark people, sessions can be started from 4 minutes and gradually increase them to 8-10 minutes. Well, dark-skinned girls can start from 5-7 minutes and gradually bring them up to 12 minutes.
I am tanning well, but since I'm a blonde, I'll still carry myself to the average photo-type and, perhaps, I'll start with a minimum of 4 minutes.
In various sources I found conflicting information on this issue. Somewhere they write that everyone can use the solarium, and somewhere they write that they need to consult a doctor. It is not recommended to use a solarium for those who have a lot of moles on their bodies. In addition, taking certain types of drugs increases the sensitivity of the skin and therefore sunbathe must be with caution.
My friend, who has been using the services of a solarium for many years, recommended to me in the beauty salon how long they had changed the lamps for the device. It turns out that the newer the lamp, the more intense the tan will be, and, consequently, it will take less time to get it.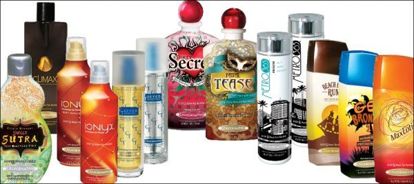 In order that during the procedures the skin is not harmed, you must use special creams before tanning and after. Tanning creams are different from regular sunscreen cosmetics. In their composition there are bronzers and activators that contribute to a quick tan and support it for a long time.
Do not abuse the solarium and sunbathe to black. Firstly, it dries the skin and leads to premature aging, and secondly, today they are increasingly saying that excessive tanning can lead to skin cancer.
Do not neglect the special points for tanning. Breast is better to cover a swimsuit or special linings for nipples – stick.
Compatibility with other procedures
It is better not to combine a solarium with other procedures. For example, after peeling, it is better to wait a month before going to sunbathe under an artificial sun. Yes, and after other cosmetic procedures, you must take a break.
It is not recommended to sunbathe under the usual sun and go to the beauty salon for this. Even an ordinary shower is better not to take if you go to a solarium, and after it is better to refrain from water procedures.
The only thing that experts recommend is to pre-clean the skin with a scrub, so the tan will fall evener.
Do you use a solarium?