Girls, I have a small request for you – take a look at yourself in the mirror. Do you like reflection? Of course like it! Without this in any way.
And now look more closely. See these little wrinkles? Do not you think that they need to get rid of?
I have been looking for the perfect remedy for the first wrinkles for a whole year. I bought creams and masks (though I tried them not too expensive), I mastered popular recipes, but everything is not that … Creams did not give any effect, and after applying the masks, the wrinkles reappeared several hours later.
About a month ago, I accidentally stumbled upon a small note on a social network. The girl spoke very positively about a certain anti-wrinkle mask made on the basis of regular starch. Information interested me, and I began to seek out the desired recipe.
I discovered it under the intriguing headline – Our analogue of botox. I think you do not need to explain what it is. Well, well, I thought, I'll check your miracle remedy. The very next day, I prepared a mixture for the mask for the entire 3-day course.
And you know what I tell you? The result exceeded my expectations! During these 3 days I not only managed to remove the fine wrinkles, but also to refresh the complexion. Already on the 2nd day my beloved carefully looked at me and gave me a compliment: How good you are! Younger every day.
Did I intrigue you? Then grab a notebook and pen, write a recipe.
– potato starch (or corn starch) 1 tbsp. l
– Fresh carrot juice 5 tbsp. l
– low-fat sour cream 1 tbsp. l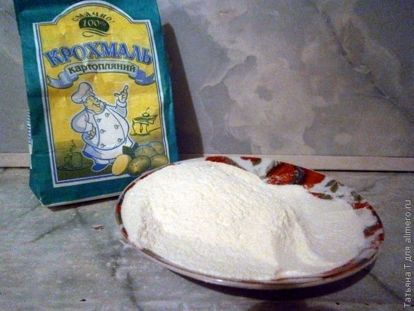 How to cook and apply
For a start, I divided the water in half. One half of the boil, in the other she diluted starch. In boiling water poured starch water in a thin stream.
Constantly stirring, boil a little over a small fire. When the mass became similar to thick jelly, I took it off the stove, added juice and sour cream.
Gently mix the mixture until a uniform consistency. After 10 minutes, when the mass had cooled, I applied it to the skin of the face and décolleté with a thin layer.
It turned out something like a film, which I washed off with warm water after 20 minutes. Immediately after that, I smeared my skin with vitamin cream, and hid the remnants of the mask in the refrigerator.
I repeated this procedure for 2 more days. I want to add that this mask perfectly moisturizes dry skin, and if you are not allergic to carrot juice, you can safely apply it.
That's just not much to get involved in, one 3-day session per month will be quite enough.
Have you tried to make such a mask yet?