Hello dear readers!
I have a combination skin prone to acne. I often use various matting agents: washing gels, masks, and napkins. But besides this it is also necessary to moisturize the skin. Especially in the cheek area. Since there I have areas prone to dryness. In addition, I often use the foundation, under which it is necessary to apply the base.
Face creams
I have already managed to get acquainted with many creams for moisturizing combination and oily skin. I liked some, some not so much, some pimples appeared from some, and some caused allergic reactions.
Most of all, of all the creams I have tested, I liked: Nivea Soft, a matting and moisturizing day cream from Avon Solutions and Cucumber from Helios Cosmetics.
Cucumber long gone from the shelves of our stores. But the memory of this cream I have left forever. For me it was the most suitable for the price and quality of the cream. Unfortunately, it does not seem to produce.
I mainly use cream for the face from Nevea software in the winter. For my skin, using it in the winter is just right.
But the day cream line Solutions I enjoyed year-round. I used it as a base for makeup and just like a cream. Since I stopped distributing products of the company Ivon, I had only one jar left in my inventory, which ended. And it was necessary to find a replacement for this cream.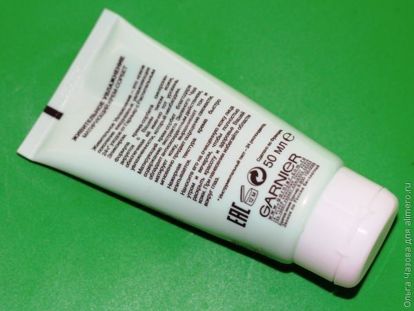 Cream-sorbet Vivifying moisturizing

And then one fine June day I went to a cosmetic shop in search of a suitable cream for my capricious skin.
After going through a large number of creams, my eyes fell on the cream-sorbet from Garnier. On the reverse side of the tube it was very tempting to describe the effect of this cream on the skin of the face. And it bribed me. With the undeniable hope of a miracle, having spent a little over a hundred rubles, I left the store happy.
I tried the cream on the same day. Its texture is light, a bit like mousse mixed with gruel. The smell is not catchy, gives a little alcohol.
After my first application on the skin felt comfort and security. The face looked refreshed and tidy, it felt moisturized and there was a noticeable lightness of the problem areas. At that time I had already thought: Oh, here it is that I have been looking for so long, how lovely – this cream!
But, a week later, his impressions spoiled. Perhaps my skin in this short time had time to get used to it, and, perhaps, I had a jump in the hormonal background, and increased skin greasiness. The cream has ceased to act at all!
When applied to the skin, on the face was formed, some kind of incomprehensible film. The face looked brilliant, as if I had managed to run a marathon 100 km.
Removing the cream away, I did not use it for about 5 days. Then I decided to try it again, but the action was repeated. He not only stopped improving my appearance, but also began to worsen it!
I don't know if the cream could deteriorate during this time, or some other factors influenced me, but I just spread my arms and I can't understand how the effect of the cream can change from a pronounced positive to a sharply negative in just a week. For me, this is a mystery.
Did you use this cream? What are your impressions?
What combination skin creams do you use? Perhaps you can advise me something.