Regular use of facial scrubs allows you to peel off dead skin cells in time, gently cleansing the skin and contributing to a deeper penetration of face creams and serums. Today I will tell about my favorite scrub from Organic Shop.
The manufacturer (Russia) promises gentle cleansing of the skin, giving it smoothness and silkiness, freshness and toning. Declared the possibility of daily use.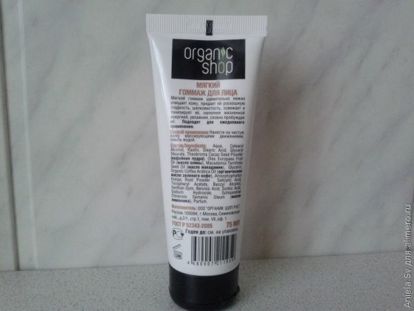 I bought this gommage spontaneously when my previous scrub ended abruptly. Just went to the store, saw a friend of the manufacturer and took this scrub. I thought he would remind me of a body scrub already known to everyone from the same manufacturer.
Packaging and appearance
Gommazh is located in a comfortable tub with a hinged lid. The neck of the tube was sealed with foil, which guarantees the safety of the product and its sterility. The volume of the tube – 75 ml.


Scrub very thick cream-colored consistency with a lot of large scrubbing brown particles (coffee). It smells unpleasant for my taste, a very chemical smell of coffee, but the smell quickly disappears after application to my face and therefore does not cause me any discomfort. Scrub particles are large, but do not scratch the face.
I use the scrub 1-2 times a week. I don't often see the need, because my skin is dry and sensitive. After application, the skin is smooth, smooth and clean. Scrub gently cleanses the pores and is easily washed off the skin without leaving a greasy film.
I never rub my face when using a scrub and I do not advise anyone to do so – you can damage the top layer of the skin and scratch it – then the face will burn. I always apply the scrub along the massage lines and easily massage for about half a minute, then wash it off.
The main ingredients in the composition: water, clay, coffee powder, olive oil, macadamia oil, green coffee oil, salicylic acid, lemongrass oil. The price is very budget – 55 rubles.
I like gommage for a good exfoliating effect and for the fact that it approached my skin perfectly. In addition, it is a budget tool that any girl can afford. I recommend everyone to try!
And what is your favorite facial scrub?