During pregnancy I encountered one very unpleasant problem. We went to the sea in the summer, and I noticed that the tan on the face is somehow uneven. After a while, I realized that it was not a tan, but pigment spots! With horror, I began to hide my eyes under dark glasses (spots were located near the eyes) and apply sunscreen, but the spots disappeared only after applying special bleaching agents.
2 years have passed after the pregnancy, but I still am afraid of sunbathing my face, because I should not use a protective cream, as the spots appear again. Of course, they are no longer so intense, and only a cosmetologist noticed them, but still it is better for me to take care of myself. In the topic I will tell you what I used to whiten the skin.
Cabbage juice is squeezed onto cotton wool, and it is applied to the skin for 15 minutes. Mom advised me to wipe my face with sauerkraut juice, but I'm afraid of something, it seems to me that it is possible to burn the entire skin.
Lemon is better not to use in its pure form, and mixed with protein or vodka and the resulting lotion to wipe the skin before going to bed. I usually wash off this mixture after some time and put on a greasy cream, lemon is very dry skin.
Strawberry juice and milk mix in equal proportions and apply on face, you can cover with a towel and lie down for 15 minutes.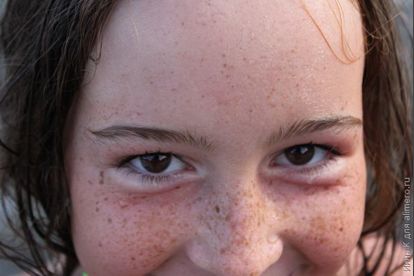 There is also a recipe for freckles, although I have nothing against them. It is necessary to knead the berries and put gruel on the face. For convenience, you can use gauze, otherwise the pieces of the berries will roll down.
You can prepare toning cubes from a cucumber and wipe the skin daily with them. It whitens and tones! We freeze cucumber juice in an ice container and rub face with cubes daily before bedtime or in the morning.
And for those who do not like the cold, I can suggest just grate a cucumber on a grater and gruel to wipe your face or use half a vegetable.
Unfortunately, home remedies do not bring instant results. The skin will be bleached gradually and it can take a month or even two. Therefore, if you know about your problem, I recommend preventing the appearance of freckles and age spots. I always apply foundation or powder on my face before going outside.
It's worth not to do this once, as freckles show up, which means it's not far from the appearance of stains. At sea and at home in the heat, I definitely use a special sunscreen. The 20th defense is enough for me, but there are means blockers with 50 SPF protection, which will not allow various troubles to appear on the skin.

Have you ever suffered from the appearance of age spots?