I am a fan of salt baths. You will ask why? First, they do not require large financial expenditures. Secondly, I really like the effect of them!
In general, I try to look after myself all year round. But, to be honest, in the winter I give myself a slack! Why shave my legs twice a week if I wear pants in winter?
For a husband, you might say. No matter how wrong! He has the only one in this regard))) He doesn't understand at all why women shave their hair in any places, except for the armpits))) So for me this reason is not relevant.
Simply put, I begin to actively put myself in order in the spring … after hibernation! Now is the time.
Let the legs be beautiful and healthy!
As they say, all ingenious is simple. For the wonderful bath you need only hot water and sea salt. You can buy it at any pharmacy or department with cosmetics. In many recipes sea salt can be replaced with ordinary food.
The process itself is also easier nowhere! I pour water into the basin (tolerably hot), pour 200 grams or a little more sea salt into it and dilute it carefully. I put my legs in this solution for 10 minutes.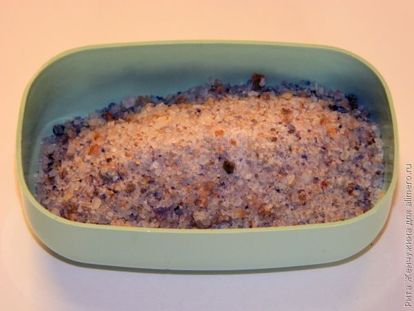 But that is not all. In the end, I dry them with a towel (I do not rinse with clean water!) And lie down to rest for half an hour))) The secret is that the feet should spend this precious time at rest, without effort and movement.
Result. To my misfortune, I am prone to edema, and this bath helps me fight them. In summer, this procedure is generally priceless! Sometimes even for three (and better more) sessions, I can remove my callous callosities and natoptyshs. And sweating, unpleasant smell, too, evaporate.
Separate and huge plus I can note a great relaxing effect. It is important not only in summer, but all year round.
My nail care
All recipes for salt baths for hands are directed mostly on the nails. For me, they themselves are naturally fragile by themselves. And then there is spring, lack of vitamins. Another cleaning, cleaning products that act on the nail plate is not at all like a nourishing cream!
Here I also put a lot of experiments and stopped on the bath that helps me better than others. It requires the usual table salt (0.5 tablespoon), a solution of alcohol iodine (5 drops) and warm water (enough for 1 cup).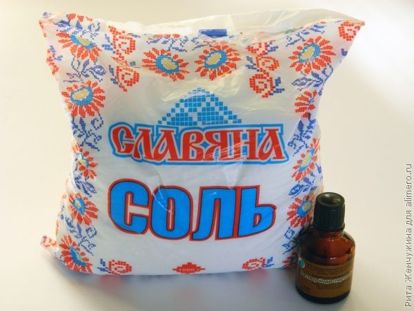 Dilute salt and iodine in water and lower nails for 20 minutes. Then wipe your hands and be sure to grease with rich nourishing cream.
Result. Nails cease to break and exfoliate. I even manage to grow them a bit, despite the house cleaning without gloves.
I know a simple and effective recipe for the hands themselves. It helps to cope with sweating. It is only necessary to dilute 1 tsp in a liter of water. sea ​​salt. To do this bath every day for 10 minutes for two weeks. See for yourself the result!