When I bought this liquid, the store salesmen assured me that my nails would become much stronger. And they were right!
Since the liquid does not harm the skin of the hands, well removes the varnish from the nails and perfectly strengthens them.
Therefore, if you have problematic nails that are constantly broken and exfoliated, then this product is for you.
The packaging design is beautiful and stylish. As for me, it is not so cheap.
The lid is tight, twists well.
The hole for the extrusion of fluid is small, which perfectly protects against irrational use.
The assortment offered the following smells: lemon, orange, apple, cherry, wild berries, cranberries, strawberries, but not all of them are in large bottles. I chose a lemon for myself.
The volume of the bottle is 200 ml, but there are smaller bottles.
Price – 23 hryvnia or 80 rubles.
Consistency
The consistency is naturally liquid. Green colour.
When applying the liquid to a cotton pad, the smell of acetone is still slightly present. And even I would say sharp, but still with a hint of lemon.
What is good is that the smell evaporates very quickly. I do not even have time to bring a cotton pad to the nail, and no longer smell of acetone.
On the nails the smell does not remain, no matter how you smell it, only the smell of lemon.
What promises manufacturer
Liquid suitable for natural and artificial nails.
Nail does not hurt.
It has a mild effect.
Protects nails from splitting.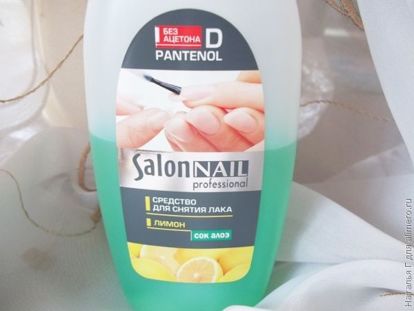 My impressions
What I liked.
1. Varnish quickly and easily removed. Sequins are a little harder, but this is not just a problem for this fluid, but for everyone at the same level.
2. To remove the varnish from one hand, it is enough to use one cotton pad, well soaked in liquid. And this means that there is a saving of wadded disks.
3. And the liquid itself is economical and does not require a large amount to remove the varnish from all nails.
4. The product is suitable for natural and artificial nails.
5. The liquid restores and strengthens the nail plate, which allows you to save on firming varnishes and oils.
6. The skin around the nail does not dry.
7. Price – 23 hryvnia or 80 rubles.
In general, nothing to complain about. When buying this liquid, I could not even think that it would be so good.