Once we went with the mother to the sea, and from the care products with us we only had Citron cologne. 🙂 Mom smeared their shoulders if they burned. Today there is no lack of protective creams, but still we do not always tan correctly, which causes irreparable harm to our skin. I'll tell you about the rules of a healthy tan, which I try to follow on vacation.
Time to go to the beach
When I tell my friends that I get up on vacation at 7 am, many people almost turn their heads to their heads. Indeed, where else to sleep, if not on vacation? And now imagine how my home reacts to me when at this time I start waking them up happily! 🙂 Let them say thank you, but their skin is safe.
On the beach we spend time from morning until 11-00, then go home. And after lunch, we arrive at about 5:00 pm and sometimes we sit on the beach until sunset. If you have to be in the sun somewhere on the street, then I try to go into the shadows. I always wear a hat on my head and dark glasses on my nose.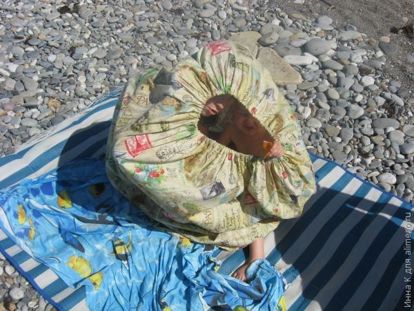 We go to the beach with an umbrella. With him, I am not afraid that children will have sunstroke or they will burn. Yes, and I myself most of the time in the shade. The time we spend in the water or near the sea is enough to get a tan. If there is no umbrella, you can use the tents that are equipped with beaches or sit in the shade of a tree.
Creams, lotions, oils
My skin is light, but at the same time I have a good tan. But I still prefer to use a cream with a high level of protection. I have a Nivea with SPF 30 for my face, and Floresan with an SPF 20 for my body. I bought the remedy for children with 25 protection. On the shoulders and on the face we apply the cream still at home, and already completely spread on the beach. Although the cream and waterproof, it is worth updating them after each swim.
In addition to sunscreen, we use cream after sunburn. This is Avon cream, but I honestly don't like it very much. The product is too greasy. If it is hot at home at night, it becomes even hotter after it is consumed. But he knows the business, the skin is moistened and calms down, if has burned.
If the burns are severe, then Panthenol should be used. Many are smeared with sour cream or kefir if they are burned, but I am skeptical about these folk remedies.
Bathing rules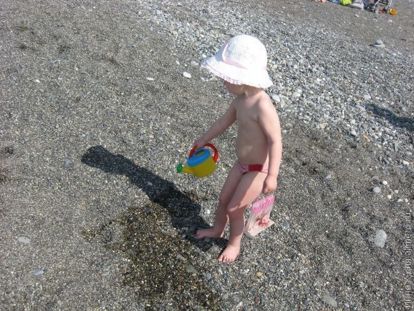 It should be remembered that even if you are in the water, the sun's rays still penetrate the water. And the shoulders are generally above water all the time. Therefore, do not sit in the pond for too long. After taking the sea bath should be wiped with a towel, because water drops contain salt crystals that irritate the skin. And if possible, it is better to rinse with fresh water.
It seems I have not forgotten anything. If you have tips on tanning rules, I'm happy to take note of them J