My hand creams run out much faster than, for example, for the face. To be honest, dear, I never even bought. For some reason, I feel sorry for them for money. It's not mascara, not powder, not blush)))
If I like decorative cosmetics, then I spend my money on it. With care in a different way. Of course, on the skin of the face, I will never save. But creams for hands and feet, shower gels, etc. – this is what I am ready to spend a maximum of 100 rubles per unit.
1 cream: Velvet protective handles
Purpose: to soften the skin, eliminate dryness, protect from external influences. It is written that it contains natural beeswax, ectoin and jojoba oil. The manufacturer Kalina, 80 ml (more than usual!), Costs about 40 rubles.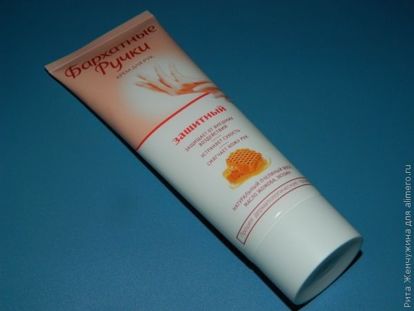 The cream has a medium consistency (not liquid and not thick). I must say that it is absorbed remarkably. For this he fell in love. It really softens and moisturizes the skin. But the smell is very strong.
I usually use my hands before bed. In the daytime only in two cases: if they are cracked, dried up after cleaning, or if they become chapped. Only with such a pungent smell can I not fall asleep. Therefore, I have it only for daytime use.
It seems to me, the more I will not take it. As for me, it is better to continue to look for suitable options to suit not only the quality, but also the flavor.
2 cream: Garnier bifido-protective complex (honey)
I must say, I have already found such a cream. Read more about it. Promises: protect your hands from frost, wind, detergents, etc. It seems like with honey (it is registered in the composition), although there is no characteristic honey smell. Manufacturer L'Oreal, 75 ml, price about 40 rubles.
His texture is also good, average. Absorbed wonderful. Removes dry hands. In short, what is needed. The smell is pleasant, not sharp, reminds me of Organic Shop creams, they have similar fragrances.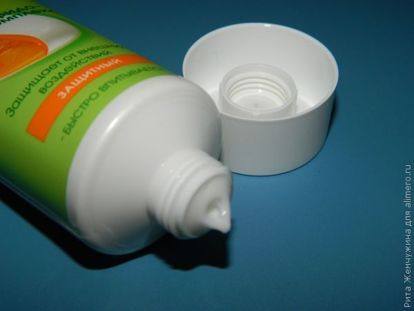 This cream came up to me by the effects and smell. Zdorovskiy option and for a small price. I am very glad that I attacked him.
3 cream: Garnier bifido complex complex (mango butter)
The main task: softens the skin of the hands and cuticle. In the composition there is mango butter. The manufacturer is the same: L'Oreal, 75 ml, the price is also about 40 rubles.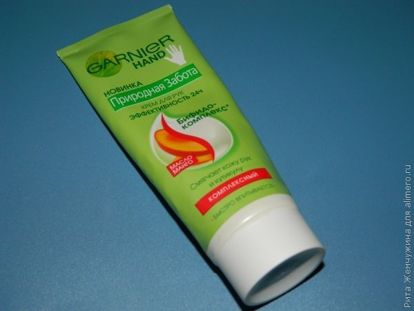 To be honest, I did not like it right away. Namely its consistency. As for me, it is too liquid. The smell is harsh, but, for my luck, not very stable. Those. Unlike Velvet pens, I can apply at night.
Only I did not like how it is absorbed. I must say that the functions of softening and moisturizing also cope with dvoechku.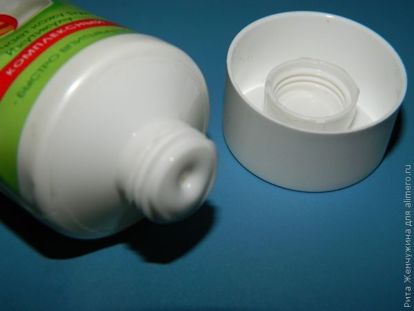 I was surprised by the difference between the two Garnier creams. To be honest, it seemed to me that different names (such as: protective, complex, nourishing, etc.) are purely advertising, and they are all the same, only with different smells. Now I know that it is not.
4 cream: Organic oblepikha
This cream is from the series of organic cosmetics. Provides: moisturizing, protection, nutrition, rejuvenation. Manufacturer: Planet Organic, 75 ml, price 65 rubles.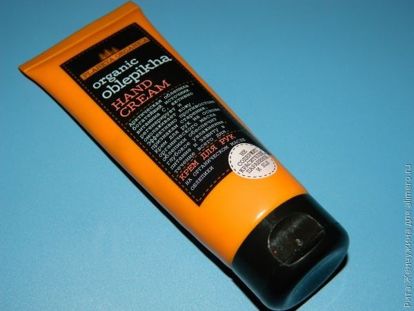 To be honest, I expected more from him. PR, then how much. Arctic sea buckthorn in the composition (more precisely, its oil), without dyes, parabens, silicones. In short, the promises of the sea!
In fact: the consistency is watery, the absorption is terrible, the feeling of the film on the skin after application, no moisturizing. The most pleasant (more precisely, the only pleasant) in this cream is the smell. He remotely resembles a sea buckthorn or even more an orange, a mango, something like that.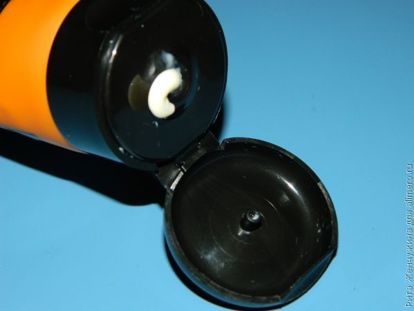 I can't wait for it to end. I forgot about another nice thing: the design of the cover. It does not unscrew, and closes. Although it would be better to be the other way around, but with the normal quality of the cream. Of course, this one I will not take.
I would like to hope that my review will be useful to someone. Of these four creams re-buy only one, the second described: Garnier protective.