What just do not come up with girls to be beautiful and maintain a healthy beauty. In the course goes not only purchased cosmetics, but also the secrets of our grandmothers. For the sake of beauty, we are ready to make masks from everything that we eat – even if the skin eats and takes the best.
Some time ago I wrote about persimmon masks and many of you became interested in them. I hope, now your face is more beautiful and healthier. If the problems remain, then I suggest to look at the masks from the pumpkin.
Dark circles under the eyes
I first learned about these miraculous masks when I decided to get rid of dark circles under my eyes. To me, they very much interfered with life happily, since they immediately added to my face a few extra years. Why do we need too much, especially on the face?
If you have the same problem, then you can fight it with such a mask: 2 tbsp. Pumpkin pulp mixed with cucumber and pumpkin juice. Add warm milk and wrap in cheesecloth, forming bags. The bags are placed under the eyelids in the area of ​​dark circles. After 15 minutes, you can remove the mask and wash off the remnants of warm chamomile tea.
The simplest pumpkin mask, in my opinion, is the one that does not need to be mixed with additional components, as they are not always at hand.
If you rub a piece of fresh pumpkin on a fine grater and squeeze the juice out of the pulp, you will get a mask of 2 to 1. First wipe the face with juice, and after 10 minutes wash off the mask and apply the pulp on the face. After 20 minutes, and this mask can be washed off.
If you mix 2 tbsp. the pulp of the pumpkin with egg white, you get another tonic mask that nourishes the skin with oxygen. You can wash off the mask in 10 minutes.
Boiled pumpkin pulp for masks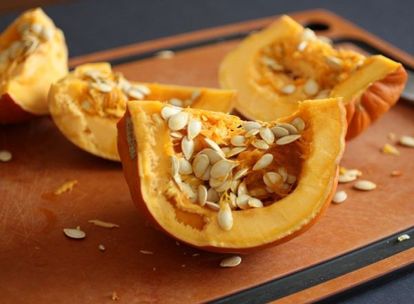 For masks you can use not only raw pumpkin, but also boiled one. It is better to bake the pumpkin or boil for a couple, so that all the beneficial properties remain in the pulp.
To remove irritation and burning sensation on the skin of the face, you can mix 2 tablespoons. boiled pumpkin pulp with 1 tsp. cosmetic clay and a small amount of strong decoction of chamomile drug. You need to make such a mask 2 times a week.
If you mix 2 tbsp. boiled pumpkin pulp with 1 tsp. milk powder, then using this mask you can get rid of the problems of oily skin. You need to hold the mask for at least 20 minutes so that it dries well on your face. Rinse better with cool chamomile tea.
What kind of pumpkin masks do you do?