A friend gave me a package of pink clay. Before that, I used white and blue, but I had no idea that there was also pink! In fact, this species was also useful for the skin, as well as other types of clay. I'll tell you more about the properties and benefits of this cosmetic.
There is no doubt about the benefits of clay. Many girls have long discovered this product for themselves and are happy to use face masks based on it. All types of clay have the following properties: cleanse the skin, remove excess fat on the surface of the skin, eliminate redness, irritation and flaking.
Pink clay is obtained by mixing red and white varieties, so it has their best properties. Pink clay is designed for any skin type, but it is especially recommended to use it for those whose skin behaves capriciously.
Pink clay helps to eliminate wrinkles, tones, rejuvenates and softens the skin, tightens the facial contour. Also, regular use of masks with pink clay helps nourish the skin, cleanses it and makes it velvety and elastic. And one of my friends with her completely got rid of the black dots.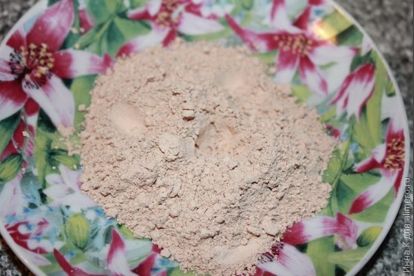 Not everyone knows that clay can be used not only for making masks, but also for the wrapping procedure. In this case, it is used to combat cellulite and flabby skin in the abdomen. To prepare the mask clay should be diluted with water to the consistency of thick cream. If desired, you can add essential oils to it.
And I also took a bath with her. I just dissolved the package in hot water and it turned out to be matte. Then you lie in it, like in milk. Such a bath soothes great, relieves fatigue and tension.
After the gift of a friend, I buy this cosmetic regularly. There is such a box about 30 rubles. In it you can find 2 bags, one of them is enough for several masks. And the bath will have to spend all the packaging, as I wrote. One important point to remember: you should not dilute any clay in a metal dish or using a metal spoon.
And again: when you make a mask, do not overdo it with water, because the consistency of the cosmetic will then be too liquid and the mask will literally flow down the face and body and you risk smearing everything around.
Have you ever used pink clay?