Once I heard the advice of a beautician, which I remember for a lifetime: In order for a face to always radiate health and beauty, it is necessary to make moisturizing masks in the summer, and nourishing – in the winter.
This advice has now become my rule. When I buy a new face cream, I always remember for what time of year I buy it. Soon the winter and I again need to replenish stocks of nourishing cream for the winter cold.
And now let's move smoothly from the lyrical digression to the main theme of today's topic. We will talk today about persimmon masks. The main feature of this fruit is that persimmon simultaneously nourishes and moisturizes the skin of the face.
This makes it universal in terms of application, regardless of whether it is winter outside or hot summer outside. The only pity is that the season of this fruit is short. Although in the summer as a mask for moisturizing, you can use frozen persimmon, maintaining our beauty.
Persimmon goes well with all skin types, which once again proves its versatility. By adding various components, you can make masks for dry, oily, combination, problem, fading or aging skin. Consider some options for masks in more detail.
Let's start with the actual for this time of year masks, because soon the cold and frost will begin and the skin should be properly prepared for them.
To prepare masks for dry and normal skin half of the persimmon mash with a fork or better blender until a homogeneous slurry. Add 1 yolk, 1 tsp. Honey and 1 tbsp. sunflower oil. Mix all ingredients and apply on face for 15 minutes, then rinse with warm water.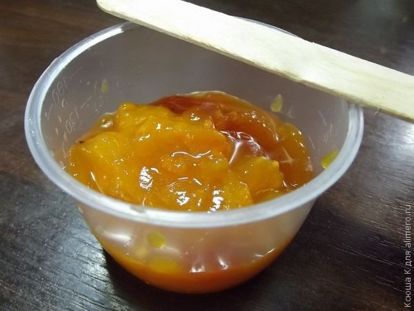 If you need to make a nourishing mask for oily skin., then do not add honey, vegetable oil and yolk, but apply only softened persimmon on your face. After 15 minutes, the mask can be washed off.
This mask can be called the author, since you can hardly find it anywhere else. I share the secret of silky skin.
The mask is suitable for combination skin, as skin patches themselves will take what they need at this moment. You need to take a half of the persimmon and a quarter of the avocado. We knead both fruits in a mush and put on the skin of the face.
Since the mask turns out to be quite liquid, we apply with a brush several layers in the places that most quickly dry out. After 15-20 minutes from the start of the procedure, the mask can be washed off with warm chamomile tea.
If there is no avocado in the house, then you can add 5-8 drops of avocado oil to a gruel of persimmon and apply on the skin for 15-20 minutes.
Tired and withering skin will save the following mask of persimmon. For its preparation you will need 2 tbsp. gruel of persimmon, 2 tbsp. cold milk and 1 tbsp. fresh cream high fat. Apply the mask on the skin for 15-20 minutes and rinse with warm water.
Persimmon cleansing mask for any type of face
Persimmon perfectly cleanses the face of excess fat and toxin, which remove pores. To make it work, you must open the pores. To do this, mix the persimmon gruel with rice flour (for oily skin add starch) and apply with light circular movements on the face for 15 minutes. Wash off with cool water or chamomile tea.
Here she is such a universal persimmon, which we love not only for its taste, but also for its help in preserving beauty and youth.
And what kind of persimmon masks do you make?