I have a rather sensitive skin on my face. It quickly turns red, there are often inflammations, so I try to make the peeling tool myself rather than buying in a store. I tried different masks and scrubs, but chose peeling with home remedies.
I tried different options, but since Peeling should be done no more than once a week., I made a choice for quite some time. The most effective, of course, are masks with abrasive substances that allow you to clean your skin as deeply as possible. It can be crushed nuts, apricot stones, sand or special wax.
It should also be remembered that peeling is possible only if the skin is completely healthy, there are no rashes or sore spots on it. If the skin is thin and too sensitive, then peeling can be done only once every two weeks. For oily skin, the procedure can be performed once a week.
The most common and favorite, including me, is peeling from oatmeal. The flakes are diluted with water and rubbed smoothly into the skin., as if rubbing the forehead, nose, cheeks. Interestingly, such a procedure can be done even in a course, daily for two weeks. Oatmeal gently and gently cleanses the skin, so once a week is not enough for a complete cleansing.
I also tried peeling with coffee grounds, but since I prefer instant coffee, I rarely use this method. The principle of operation is the same as that of oatmeal. Coffee grounds are applied to the face and aged for as long as it dries. To remove such a mask is best smooth movements, first with warm water, and then you should wash with cold water.
Recently I tried one recipe that came up to me and was very pleased with my result. It is enough for him to have soda and liquid soap. A little soda is poured into liquid soap and then applied to the face. The effect is very noticeable, due to soap there is no irritation or redness on the skin.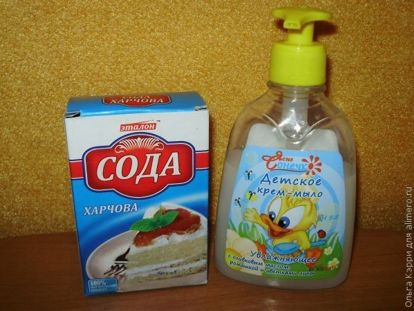 Soap with soda is important to rub in a circular motion for a couple of minutes, and then it should be washed from the face of this tool under warm water. Do not use too hot or cold water. What I like about this method is its effect and ease of use. I always have soda and soap in my house.
I tried and the popular method of peeling with salt. However, this method is not suitable for my skin. Be sure to drop a few drops of sunflower oil in the salt so that the grains are not so sharp. Then salt is added to sour cream and this mixture is covered over the face.. The result is very good, as the salt is an excellent abrasive, but this option is only suitable for those who have rather oily, but healthy skin.
Are you doing peeling at home?