Once I was on a manicure in the salon and I was offered to make paraffin baths for hands. I had never heard of this before, but I agreed. The result exceeded all my expectations! The skin on the hands became tender, smooth and beautiful. After that, I decided to try the same procedure at home.
Paraffin baths have an effect not only on the appearance of the handles, they also bring considerable benefits.
Heat.Paraffin is applied to the hands warm and warms the skin during the procedure. Because of this, microcirculation increases and lymphatic drainage accelerates. The skin glands are more active, resulting in the release of toxins.
Nutrition and hydration. Under the paraffin mask, various creams are applied to the skin, which are absorbed intensively by increasing the temperature.
Sticking Paraffin cools and decreases in volume. Due to this, swelling is removed and small wrinkles are smoothed.
As I wrote at the beginning of the topic, the effect of paraffin baths is amazing. The skin is rejuvenated, becomes velvety. After the first procedure I was even sorry to wash my hands, I was afraid that the result would wash off. 🙂
How to make baths at home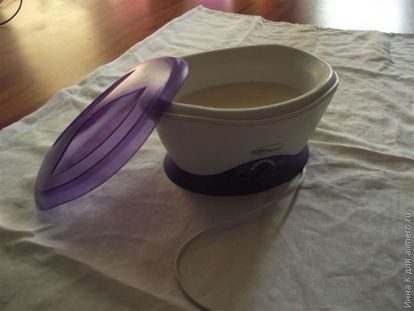 For the bath you need paraffin, but of course, not from candles, but a special cosmetic. It is inexpensive (my order is 100r). I found paraffin in the pharmacy. You can splurge on a special technique – wax wax (here's a friend of mine), and you can use a regular saucepan. Still prepare a hand scrub and cream.
Put a piece of paraffin in a saucepan and put in a water bath. It is better to use a wide pan so that you can dip your hand in it.
Hands should also be prepared. Wash them and scrub. To paraffin does not stick, it is necessary to lubricate the hands with a nourishing cream. In addition, the cream will give the skin all the nutrients.
Check the paraffin temperature. It should not burn the skin. Put a drop on the back of your hand. If you are satisfied with the temperature, feel free to put your hand in it. I advise you to carry out the procedure with an assistant. This may be a friend or mother. We do baths with our daughter, she helps me a lot!
It is necessary to raise and lower the hand again. You need to do this several times. A multilayer paraffin mask is formed on the hands. Now the bag is put on the brush, and the mitten is pulled on top or the towel is wound. The same is done with the other hand.
Now you can sit for about 30 minutes near the TV. After that, remove the mittens, tea bags and gently – paraffin.
Total
Having made paraffin baths only once, you will certainly want to repeat them. Just do not use paraffin a second time, it will not bring any benefit.
Have you ever made paraffin baths?