Hello dear girls! Today I want to tell you about one more of my shower gel series from Oriflame.
Packaging the gel at first glance immediately gives a feeling of summer mood, freshness and vigor. The lime color of the gel and the design of the bottle adjusts to the desired mode, and there is some kind of emotional lift. It was the appearance of the gel that immediately won me over.
The label, glued to the bottle, shows a watermelon and aloe sprigs.
Bottle of 400 ml, but now it is not fully filled. In the photo the bottle has not yet started with a sealed cap, and you can see how much gel is in it.
We open the packaging of the gel – and immediately hear the pleasant smell of watermelon. The aroma is light and unobtrusive. After it is washed off, the smell does not remain on the skin, perhaps, if only barely perceptible. In my opinion, this is a huge plus. But in the bathroom, after taking a shower, the scent of gel is present.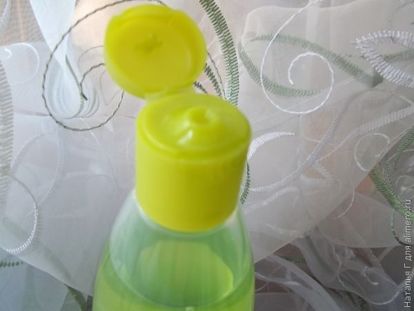 Consistency
The consistency of the gel is quite liquid. It foams moderately, somehow not very plentiful, but then the foam is very soft and well washed off. However, despite the fact that the gel does not foam very much, one small wash is enough for one wash. Therefore, it turns out very economical.
After washing the film on the body, there is no dryness and feeling of tightness of the skin.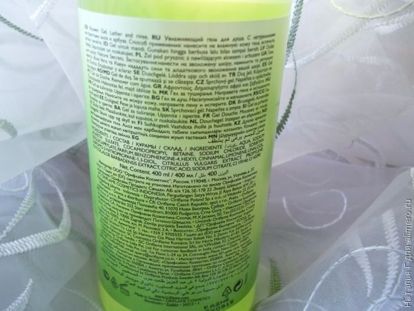 Personal opinion
In general, I am satisfied with the gel and can put a solid top five. In my opinion, it is perfect for creating a good, summer mood!
The gel cleans the skin well, does not dry, is washed off quickly, does not leave any unpleasant sensations on the body. After taking a shower, the skin becomes soft, tender and moisturized. The gel is gently applied to the skin and as if enveloping the body.
For me, this gel is deliciously delicious with an invigorating scent. I think I'll get it again, that's for sure.
Oh, yes, I forgot to write the price – with a discount it cost me only 90 rubles in the catalog.