Surely many have heard about the wonderful properties of grape seed oil, but not all have tried it in action.
I bought this oil a long time ago, at the beginning of winter, and had already managed to spend almost the entire bottle. And I decided to write my opinion about it just now.
This oil is recommended for the face, but I use it for other parts of the body. Well, this will be further …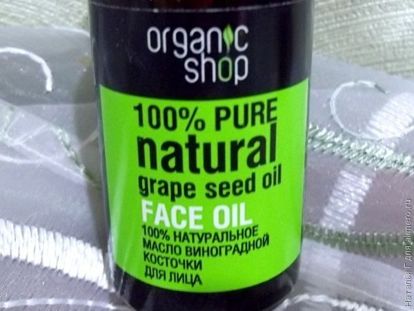 A beautiful bottle of dark glass. Volume 30 ml.
Instead of a cap, a pipette, which is very convenient to use.
Aroma and texture
The smell is wonderful, similar to the faint aroma of Isabella grapes.
The consistency is light, color is transparent yellow.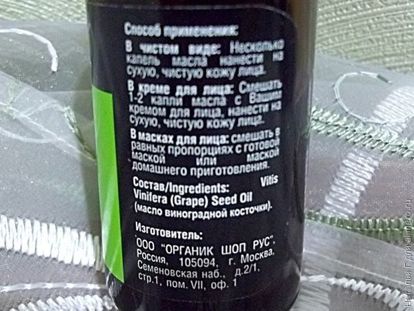 How to use
Having bought butter, I knew that it was intended for the face, and it was for the face that I purchased it. But in the process of using, I found more options:
I apply oil on clean skin only at bedtime, but not in pure form, but dilute a little with water. Why – you ask?
Because in its pure form it is easy to overdo it. And after a while, you have to wipe the excess with his napkin, which are not absorbed.
Therefore, I pour a drop of oil in one palm, gently rinse the other palm with water, mix and apply, gradually driving into the skin. I give soak.
I can also put oil on my lips in pure form for the night, if they have faded or curled.
2. Nails and hands
I put oil on a cuticle, for its softening after shellac. Sometimes for the night I rub oil in nails when I give them a rest from a covering.
I can also put oil on my hands, but only when they are very shaken and become rough, especially during the cold season. In other cases, I use hand cream.
After the epilation, the oil is well rubbed into the legs so that the skin calms down.
I use oil as one of the components of hair masks.
I mostly do the masks myself, add a few drops of grape seed or cedar oil to them.
I rub the finished mask into the scalp and hair, wrap it with a film and a towel. Left for 3-4 hours.
Also, after shampooing, I can apply oil on the ends of the hair to prevent their section.
As you can see, this oil is universal for me and serves for many things. Moisturizes, softens and nourishes the skin, does not clog pores. The skin of the legs becomes soft and moisturized. The cuticle on the nails is saturated, and the hair on the head is strengthened. In addition, it can be added to various creams.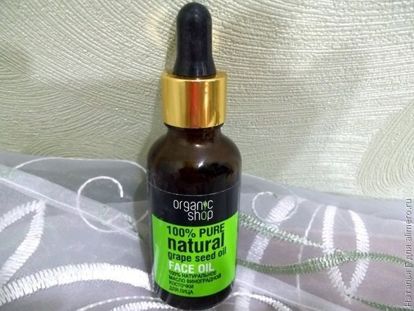 In general, oil can advise, the thing is really worth it!
At the same time it is economical and affordable, about 45 hryvnia or 140 rubles.