Not so long ago, the Russian brand Organic Shop released a new series of Body Desserts for body care with the means in an enlarged format of jars. Since I love Organic Shop and I have finished another body scrub, I have acquired the AlmondHoney Milk Renewing Body Scrub.
The manufacturer (Russia) promises tenderness of the product for the radiance of the skin and its improvement. Scrub gives minutes of bliss and enjoyment of exquisite aroma. Does not contain artificial preservatives, dyes and flavors.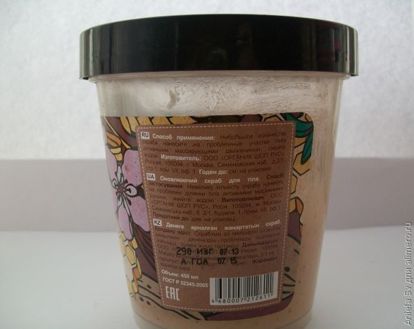 Packaging and appearance
The scrub is packed in a huge 450 ml plastic transparent jar. Packaging is very large – enough for a long time. From above, the scrub is covered with a black plastic lid, there was no partition between the lid and the scrub, which I consider to be a minor drawback – all of a sudden there were fingers in my way. (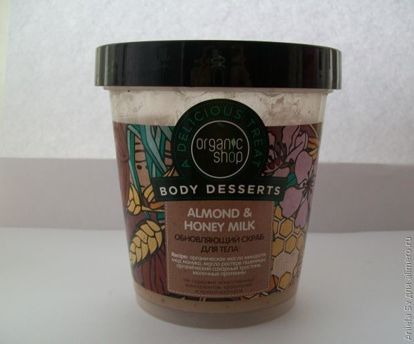 Scrub sugar-salt, very dense consistency of the color of coffee with milk. There are there crushed reddish bones.
A scrub of such a dense consistency that you have to soak it in water in your hand is not very convenient.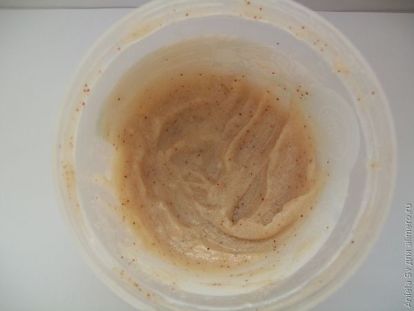 The aroma is simply amazing – it smells of sweets Milk River, I enjoy this aroma in the shower, but it does not persist on the body, unfortunately.
I use scrubs 1-2 times a week. This scrub, I will say right away, did not become my favorite because of its dense texture. I do not like to be soaked. In addition, despite the fact that the sugar scrub – it also exfoliates so-so, I love harder.
It is easy to wash off the scrub, after it does not leave a greasy film, but the skin after using the scrub is moisturized and does not require body lotion. Since there is salt in the composition, it is better not to use the scrub on damaged areas of the body – it can pinch and turn red.
Ingredients include sea salt, sugar, glycerin, cocoa butter, wheat germ oil, organic almond oil, manuka honey, milk proteins, organic sugar cane, and pine nuts.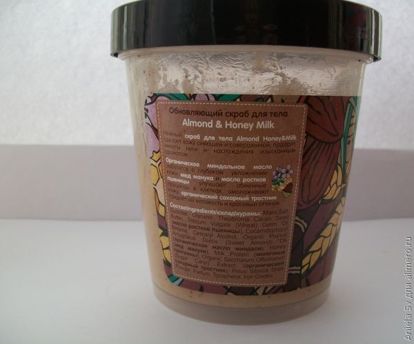 Summary
Scrub, alas, I did not like. I believe that the main series of scrubs from Organic Shop is much better than the new one, besides the huge size quickly bothers you, and the soul asks for a new one.
The only thing I like about scrub is fragrance, but I didn't buy it for that. So, I do not know whether to advise you)) Cost – 299 rubles without discount.