Organic cosmetics have been popular for years. A couple of months ago I bought the Love 2 Mix Organic anti-cellulite cream from the Russian brand Organic Shop. Of course, miracles do not happen, and with one cream it is impossible to solve the problem under the neck C. But the skin moisturized and nourished with this cream looks much better.
Naturally and effectively
Love 2 mix Organic is positioned as a natural and safe cosmetics. In its production does not use SLS, parabens, mineral oils, phthalates, gluten, silicone and synthetic fragrances.
The trick of this cosmetics is that in the composition of any product there are two active ingredients (as in my cream – pineapple and guarana), therefore the line was called 2 Mix. In general, many people like the Organic Shop products for their naturalness, good quality and reasonable prices.
So, the manufacturer promises us not only to moisturize and nourish the skin, but also to tighten, tone and even activate the process of burning fat!
With the help of such products:
– pineapple extract, This is a fairly famous fat burner, because there are even pineapple diets,
– guarana extract speeds up the metabolism, it contains caffeine, which invigorates and tones,
– sesame oil It has been used in cosmetology for a thousand years, it is very useful for the skin,
– prickly needle, this medicinal plant has a beneficial effect on the blood vessels,
– Imperata cylindrical It is known for its properties to influence the regeneration and balance of water in the skin.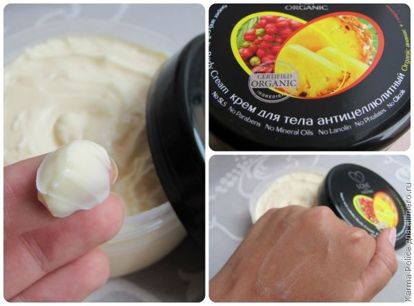 Did not like the smell
In the shop Organic Shop, in which I drop in, a very lively consultant. It turned out that the cream for which I came was not available. Then the consultant slipped a bottle of this cream under my nose.
Smell seemed magical and so appetizing! I don't know how guarana smells, but the contents smelled like pineapple yogurt. Yes, so natural that the natural sourness of pineapple pleasantly tickled her nose.
The contents of the jars of milk-peach color. The cream is thick, thick and oily, but melts on the skin. Very easy to apply. But it is absorbed for a very long time, you have to walk around the house in a robe for half an hour, and you can't talk about skinny jeans.
I did not feel the effect of the film on the skin, but when going to the shower there was some kind of soaping or something.
The cream has no super effect. As there is no cooling or warming effect. Just a dense cream that moisturizes and nourishes. And, naturally, the skin from this looks smoother.
For me, the essential disadvantage of this product was its smell. So pleasant in a jar, he remained on the skin for a long time and was so intrusive and audible that sometimes he was just sick.
A jar of 250 ml costs from 120 to 180 rubles.