Recently, I began to collect various oils and my collection was replenished with one more remedy – essential oil of sweet orange. I like it so much that I use it not only for cosmetic purposes, for example, I pour it into an aroma lamp. I'll tell you about my recipes.
Since I am a beginner oil lover, I only recently learned that essential oils cannot be used in their pure form, they must be diluted with vegetable (for example, almond, olive) or cream, and then applied to the skin or hair. Otherwise, you can get burned.
But I didn't know yet, I put a drop of orange oil on my wrists instead of perfumes, and the amazing scent was with me for a while. Not to say that for a long time, but for a couple of hours you can certainly inhale the smell of citrus. To me it is very uplifting.
Masks for hair with the addition of orange essential oil have a triple effect:
– struggling with dry scalp
– help against brittle tips
– act against falling out
I mix a few drops of orange oil and 1 tbsp. almond I rub this mixture into the scalp, spread it over my hair and thoroughly moisten the tips. Then I put on the bag and wrap myself with a towel. After a couple of hours you can wash your hair with shampoo.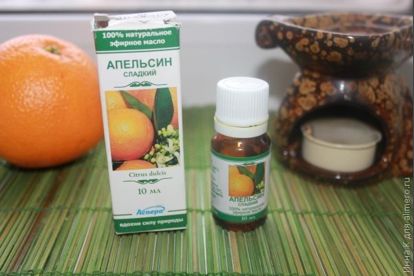 Sweet orange oil can fight stretch marks and cellulite. I mix it with grape (I pour a little of this and that into my hand) and I rub the mixture well into problem areas, as well as lubricate my knees and elbows, where the skin requires additional moisturizing. I can give a little advice. If you apply the mixture in its pure form, the skin will be too oily, so I apply it with a wet hand.
For baths
I can not describe how nice it is to lie in the bath, which is filled with the scent of orange! You can not drip water directly. I first dilute it with hot water in a separate container, and only then pour it into the bath.
Means with citrus odors help to raise the mood, to cheer up and generally have a positive effect on mental well-being. Therefore, in my oil burner, orange oil is not translated. I can say that, compared to fir, it loses a little in intensity, just need to drip it into the water in a larger volume. For the sake of only one smell of orange is already worth using it. 🙂