Surely, each of us faced with the moment when you go on nature and you need to quickly refresh your breath. You will not take a toothbrush with toothpaste, but chewing gum will not help.
I often find myself in such situations, but I no longer worry about the freshness of breathing – a novelty from the Russian company Splat – 2-in-1 foam helps me to keep it. About her today and tell.
So, I repeat that the Russian company and the product itself is unique – at least, before that, I have not met such products. I got the foam in the box service, and I managed to appreciate its worth.
The manufacturer promises to dissolve plaque and care for enamel. It is recommended to press the dispenser and keep the foam in the mouth for about 5 seconds. Do not swallow!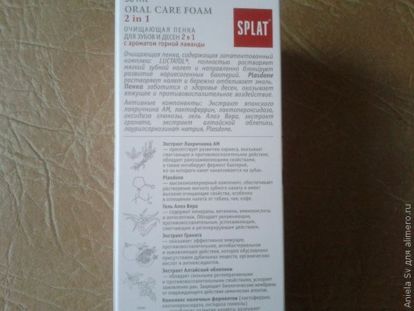 So, the foam is in a small convenient bottle (50 ml) with a dispenser like a foam for washing (you know, those that need to be pressed and the air foam immediately appears).
The bottle is very beautifully decorated – a purple peacock is depicted. Additionally, the bottle is packed in a cardboard box with a transparent window, on the box – all the necessary information about the composition and manufacturer. The bottle is transparent, which allows me to control the flow of funds.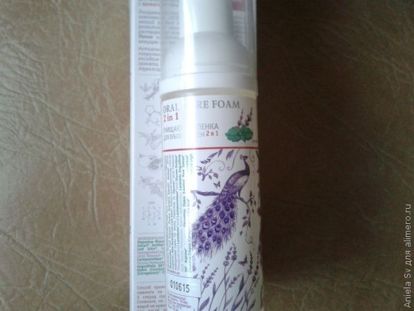 My copy – with the scent of mountain lavender. In the line – 8 foams with different flavors. The dispenser of the foam is protected by a plastic transparent lid, which fits tightly on the bottle and does not move, closes until it clicks. The dispenser of the foam is comfortable, not tight. When pressed, produces a small amount of foam. The foam turns out not too saturated, moderately air.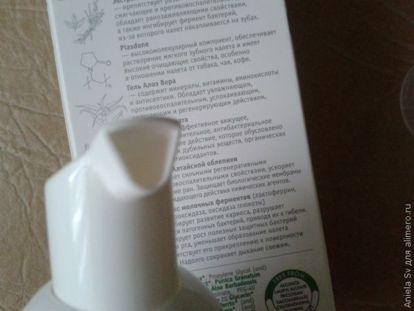 Application and action
I take the foam with me when it is inconvenient to take a toothbrush with me, and you need to refresh your breath quickly and simply. For example, when I go to the train or to nature. To refresh my breath, I press the dispenser a couple of times and hold it in my mouth for 4-5 seconds. During this time I rinse my mouth. A foam of a pleasant, rich taste that does not cause my rejection. Then I just spit out the foam and, voila, my breath is fresh again, and my teeth are clean.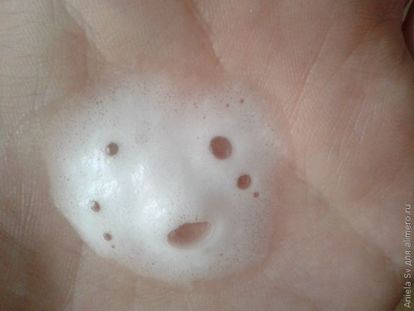 After using the foam on the sensations, the teeth become cleaner, the enamel is polished. The taste stays in the mouth for about 10 seconds, then disappears completely. Breath freshening is enough for me till the end of the day. The composition can be seen in the photo.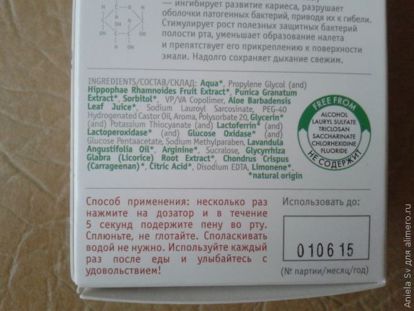 Summary
I am very pleased with the new product from Splat. Foam qualitatively and unobtrusively cleans teeth cares for them. As an express method of cleaning teeth, I recommend to everyone! The cost is about 180 rubles.
Have you tried such an interesting tool?