I confess honestly: I learned about the benefits of olive oil recently. I used to think that oils are used only in cooking, but not in home cosmetology. And I also doubted the effectiveness of these masks based on olive oil.
Olive oil for skin beauty

My friend has a personal beautician. And I managed to communicate with her somehow. So I decided to ask her about the benefits of olive oil and its relation to it. It is believed that olive oil clogs the pores. But contrary to public opinion, this is absolutely not the case. Oil, if taken in reasonable quantities, not only moisturizes and nourishes the skin, but also improves the tone of the face.
That is why olive oil is part of many lotions and face masks for dry skin. After all, this type of skin needs intensive hydration and nutrition. I was also surprised, but this oil is suitable as a make-up remover. Maybe someone tried? Personally, I dare not.
But I did not refuse masks. After all, I found a lot of positive reviews on the Internet. Yes, and from the beautician heard that in the composition of expensive cosmetics this oil too. Weekend, I decided to make cosmetic. After all, I want to go to work rested and beautiful.
I mixed olive oil, honey and egg yolk. You can also add a few drops of lemon juice or aloe pulp. The mask is great for me. The weathered skin softened and the inflammation disappeared. The face became soft and moist.
But on the mask for the face, I did not stop. She warmed up the oil and began to rub it into the nail plates for strengthening and into the skin of the hands at night. Put on gloves for enhanced effect. It is worth noting that in the morning handles were gentle, like a baby! Great nutrition and hydration! My chapped and rough skin, for certain, waited for just such procedures! Therefore, I advise everyone to use in the autumn-winter period.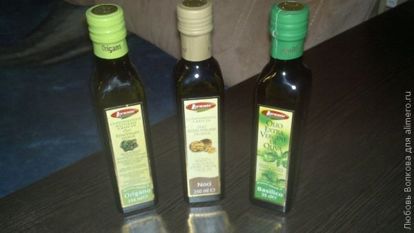 Olive oil for hair beauty
It also nourishes and moisturizes olive hair our hair. You can simply rub the oil into the scalp and evenly hold the hair, and you can make masks. Add to the butter a beaten egg, honey and a little lemon juice for a shine.
I kept this mask for half an hour. Then washed with water and washed my hair. The only drawback is not suitable for oily hair. Yes, the hair is perfectly moisturized, as long as there is no oily shine. But if the shampoo suits you and cleans hair from impurities well, then this problem is not terrible.
Do you use olive oil for your beauty? Where and how do you apply?