Bubchen Baby Ol baby oil was purchased by my husband for work. At one time he worked as a massage therapist in the salon. For a classic massage, he needed a good and not too expensive hypoallergenic oil.
Near the house we have a good cosmetics store. It was in her husband that he bought several bottles of Baby Ol oil. He did not need one of them, and he stayed in our house for general use. Sometimes I use it for hygienic purposes for a little daughter. It is also used as a hand cream or for body massage.
The composition and features of Baby Ol oil
Baby Ol oil is available in large (200 ml) and small (40 ml) bottles. I have now in use a large bottle. It has a convenient shape that prevents the bottle from slipping out of hands. This is important, because the oil is very fat.
The design of the bottle is nice, made in blue and blue tones. On the blue cap under the cap there is a small hole for pouring oil from the bottle.

The composition of the oil includes natural ingredients: shea butter, sunflower oil, calendula extract, tocopherol and perfume composition.
The manufacturer writes on the bottle with oil that the product for newborns does not cause allergies and is tested by dermatologists. And indeed, in my family, no one had a rash after applying this oil. Baby Ol oil is colorless and has a liquid consistency. The smell of products for kids is pleasant, but not saturated.
My husband used little for massage. He was very pleased with the quality and fat of Baby Ol. After his sessions, none of his clients complained about the occurrence of allergies or rashes in the places where the massage was held. When my husband massaged me with this oil, it worked perfectly as a massage cream.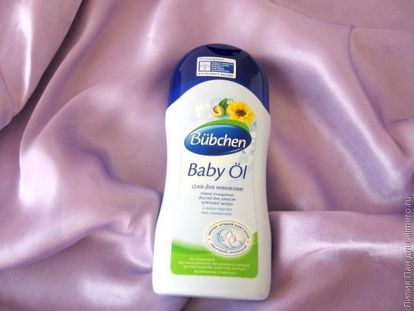 I used oil several times to nourish the skin of my hands. A little strange turned out the effect of the use of Baby Ol. The oil is very fat and it is especially felt when applied to your hands. It dries very long.
The effect of applying to the hands of Baby Ol is about the same as if smeared with sunflower oil. And after drying on the hands, skin tightening and mild dryness are felt. I think, try to use it to care for the skin of the feet and heels.