I constantly wear shoes with heels. By the end of the day, my legs get tired, grow rude, so I want to feed and soften it. For these purposes, I purchased the foot cream for my one of the favorite brands for body care – Natura Siberika.
The manufacturer (Russia) promises to make the skin of the legs delicate, well-groomed, healthy. Sea buckthorn and acidic oils, which are part of, nourish and moisturize the skin of the legs, make it soft. Sage oil restores the skin and has antiseptic properties.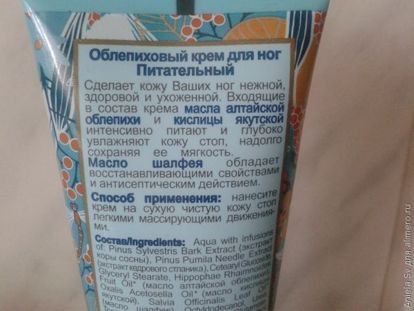 Packaging and appearance
The cream is sold in a carton box in the corporate colors of this series – blue and orange. Inside the box is a plastic tube with a volume of 75 ml with a convenient screw cap and a small dispenser. The cover is covered with gold dusting, which I quickly peeled off. The rest of the tube has not changed during use.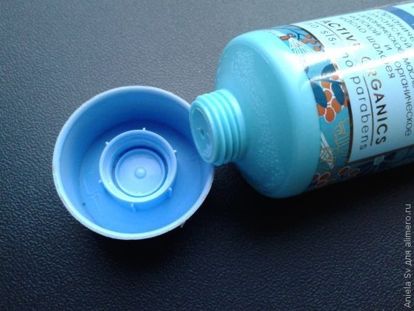 Inside the tube is a cream of dense texture of a positive light orange color with a very appetizing sea-buckthorn aroma. The aroma is natural, not chemical, unobtrusive. Since I put the cream under the socks, they retain this fragrance.
I put on the cream every day in the evenings under my socks. The cream is easy to apply and spread over the skin, leaves no feeling of slippery legs, almost immediately absorbed. The skin becomes soft and moisturized, dry areas soften. She also noticed that corns become more imperceptible and pass faster. The cream does not cool the skin of the feet, although menthol is claimed.
The composition is rich in useful ingredients: water with various extracts (pine bark, elfin cedar, Altai sea buckthorn oil, Yakut sour butter, sage oil), urea, shea butter, menthol, glycerin, organic acids.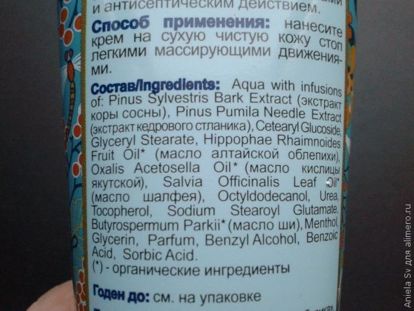 Summary
I really liked the cream. He justifies his appointment and fully fulfills the declared promises. Cost – 59 rubles.