Hand cream – an indispensable ally of any woman. By choosing this product, I try to approach carefully. I have already tried a lot of tools, but I continue to test new items on the cosmetic market.
Recently, a pharmacist friend persuaded me to get an intensive hand cream with seaweed extract Nutriforce from Seaderm. She is constantly in contact with money, from which her skin is very dry hands. And it was this cream that saved her delicate skin. I could not resist him.
Seaderm – the famous TM of French cosmetics, which we sell only in pharmacies. The product range is considerable – means to care for the skin of the face and body, anti-aging and anti-cellulite series. All products contain marine ingredients – algae extracts, marine collagen, sea fennel, etc.
The properties of the cream are standard:
– intensive hydration and nutrition
– fast absorption
– restoration of damaged skin
– nutrition of nail plates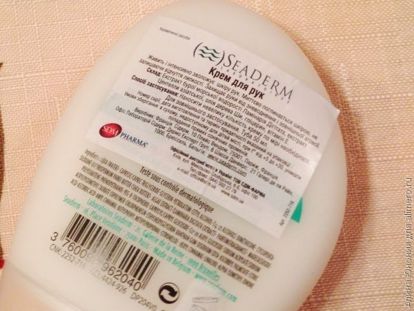 In the first positions here extracts of shea butter and kelp brown seaweed. Also contained Centella Asiatic Extract – A plant from faraway India, which is famous for its rejuvenating and regenerating properties.
There is also a substance Dimethicone – a special silicone that leaves a completely imperceptible protective film on the skin, which reduces the consequences of exposure to the environment.
The first thing I noticed is a tube of the original form. It looks like something between a powder and a balm for hair. Small, round and comfortable – what you need for a woman's handbag. By the way, the lid is fixed tight enough, so you should not worry that the cream will spill in the bag.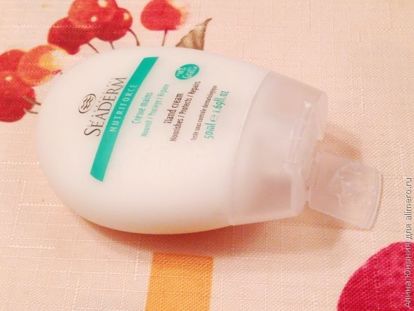 The usual consistency – cream white. The fragrance (yes, not the smell, but the aroma) is a delicate floral-marine, barely perceptible, it rests on the skin for a long time. The remedy is really absorbed very quickly. A small drop the size of a bean is enough to moisturize the skin on both hands.
I really liked the cream. On my right hand I had very dry areas, almost atopic dermatitis – either from frost, or from a large amount of hand-washed dishes. So, the skin on these places fully recovered in just two days!
Really absorbed means really very quickly, on the skin does not leave any stickiness, no fat, no film.
Unfortunately, Nutriforce seaweed hand cream from Seaderm is more expensive than its counterparts over budget TM — for a small bottle of 50ml I paid already 160 UAH (about 500r). However, it pleases at least that the product is used very sparingly.
Earlier I tried only one tool of this company – eye cream. Honestly, I didn't like it very much. And I am very glad that I took the risk and decided to try the product from Seaderm again.
Have you tried the products of this French cosmetics company? What are your impressions?